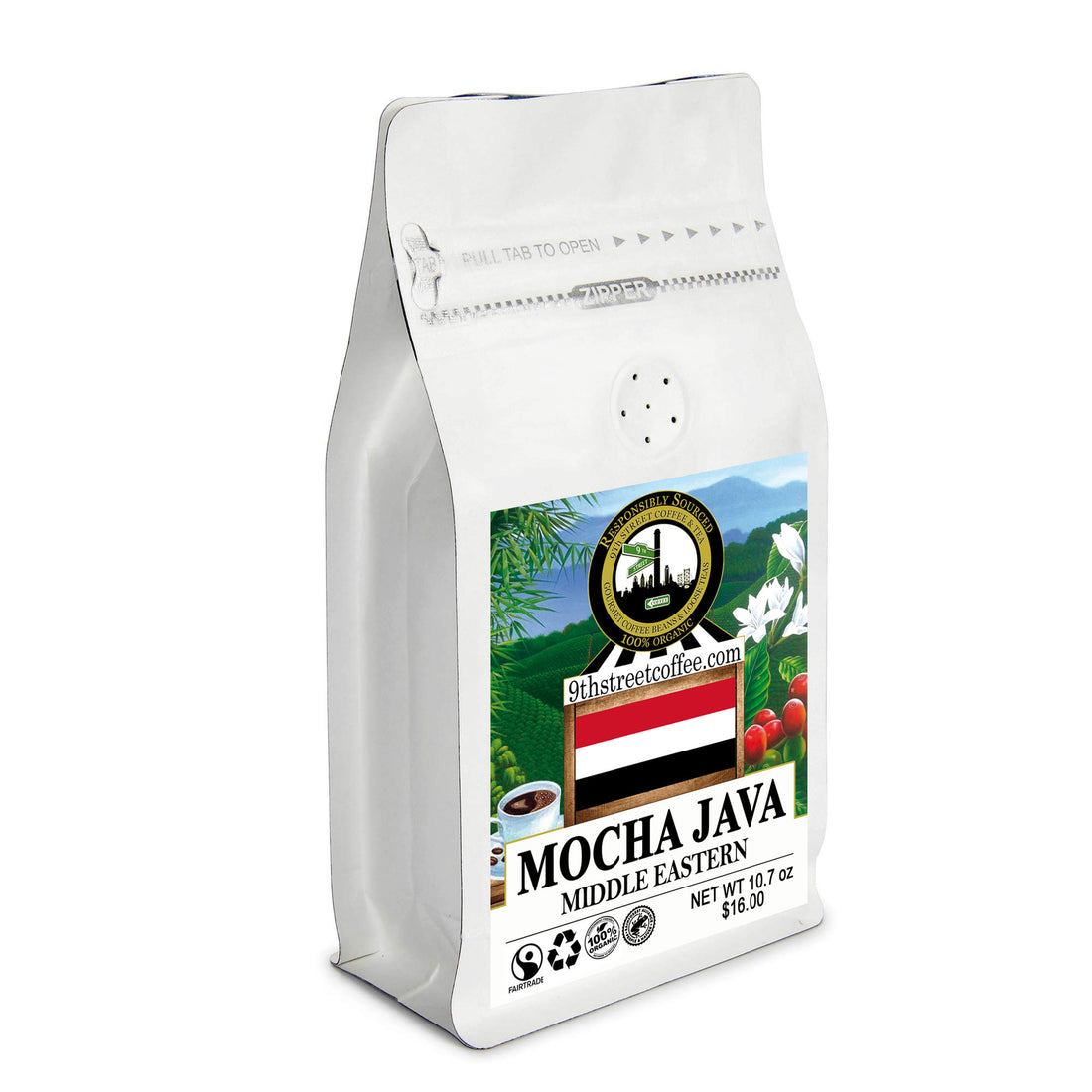 Organic Arabian Mocha Java Coffee
Welcome to the worlds first coffee blend. Developed in the early 1400's by Dutch traders, Mocha Java is a delicate combination of Yemeni Mocha beans and Arabica beans from the Colonial Plantation on the island of Java. At that time, Yemen and Java were the two power-houses of the coffee trade. Folklore says the Dutch didn't care much for the strength of traditional Turkish coffee and since drinking coffee was a cultural way of solidifying business arrangements, the Dutch traders began mixing smoother tasting Java Arabica beans to the potent Yemen Mocha beans. According to the Yemeni ship owners docked at the Port of Mocha, dialing down the kick of Turkish Coffee, lead to the economic expansion in the Middle East. One fact is certain, Mocha Java is a unique great tasting coffee steeped in a rich and diverse history.
Roast Level: Arabian Roast
Caffeine Level: Medium
Acidity Level: Low - Low/Medium
Varietal: 50/50 Blend Yemen & Indonesian Java
Elevation: 500 - 2,000 ft above sea level
Region: Yemen & The Island of Java
Accreditation: Certified Organic - Recycled/Biodegradable Packaging
Strong baker's chocolate tones with a subtle prune and date finish
Orders of 5 lbs or more require 2-3 days for processing
9th Street Coffee
ORGANIC, FAIR TRADE & RESPONSIBLY SOURCED
100% Organic & Responsibly Sourced Coffee Beans & Teas are more than just a slogan. We are proud to align ourselves with such environmentally conscious organization such as, The UNDP Africa Project, The Latin American Coffee Growers Cooperative, The Malawi Women's Farming Program and The Royal Indian Tiger Reserve Project. 9th Street's partnership with these and other non-profit groups allows us the unique opportunity to provide a high quality, great tasting unique line of products, but more importantly, it helps enhance the lives of those who work so hard to bring it to us.
Questions? email us at info@9thstreetcoffee.com