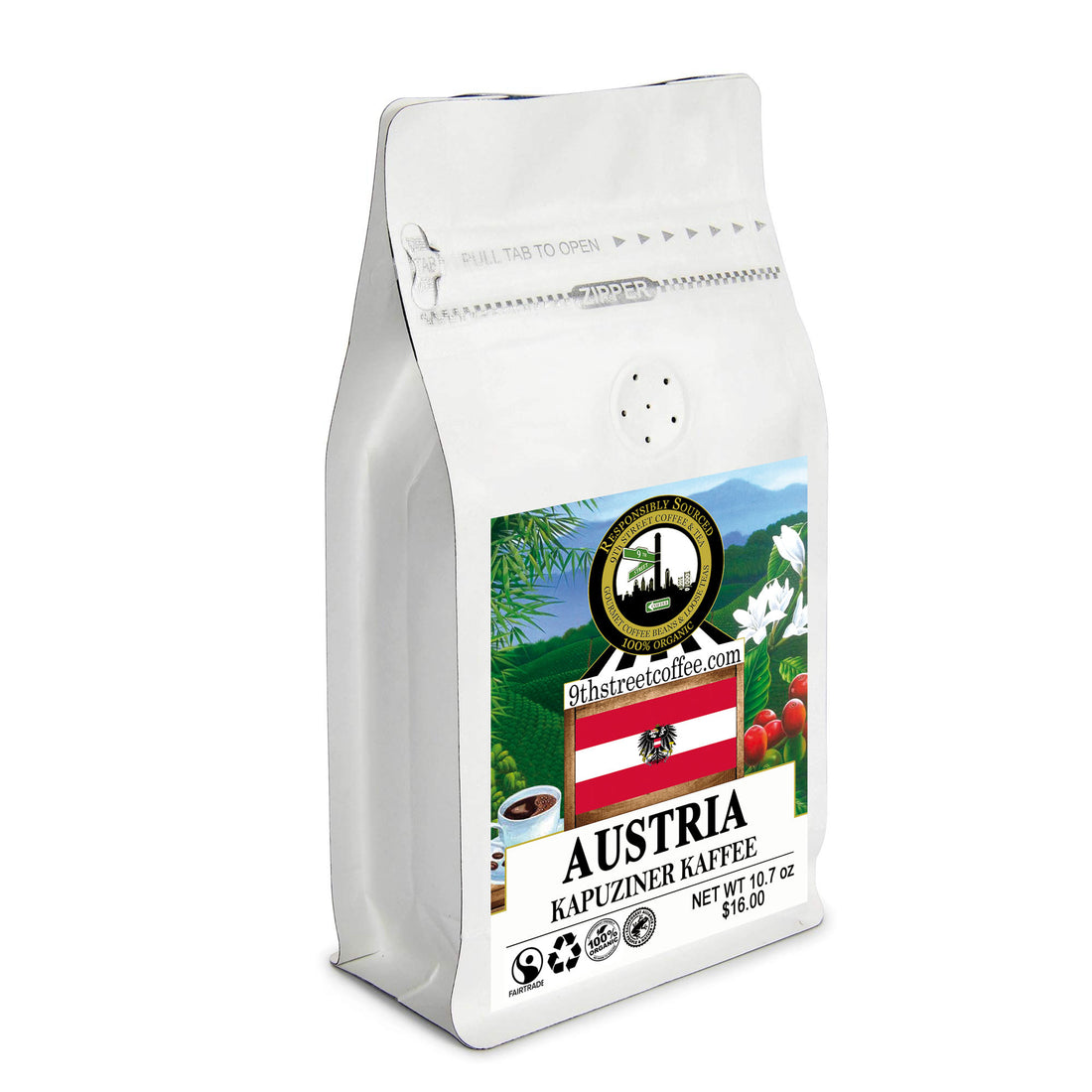 Organic Austrian Kapuziner Kaffee Vienna Roast Coffee
9th St. EUROPEAN COFFEE HOUSE COLLECTION-AUSTRIA
To truly appreciate the long history of Austria's Viennese style coffee, you must go back to the year 1683 and thank the Turkish silk traders for leaving behind a few bags of green coffee beans in the city. These beans were a blend of North African Robusta coffee beans most commonly used for preparing Turkish style coffee.
An enterprising Viennese café owner took the green coffee beans and with his bread oven, crudely invented what we today celebrate as the Vienna roast. This unique roasting method sparked the rich culture of the Viennese coffee house. From this entrepreneurial beginning, spending part of ones day in a coffee house and enjoying the bold earthy taste of a Viennese coffee remains a staple of Austrian life and a "must-do" for all visitors.
Roast Level: Vienna
Caffeine Level: Medium - Medium/High
Acidity Level: Medium - Medium/Low
Varietal: North African Robusta & Arabica Blend
Elevation: 4,000 - 5,000 ft above sea level
Accreditation: Certified Organic - Fair Trade - Single Origin - Single Plantation - Recycled/Biodegradable Packaging
Deep chocolate and smooth tobacco notes with a sweet finish
Orders of 5 lbs or more require 2-3 days for processing
9th Street Coffee
ORGANIC, FAIR TRADE & RESPONSIBLY SOURCED
100% Organic & Responsibly Sourced Coffee Beans & Teas are more than just a slogan. We are proud to align ourselves with such environmentally conscious organization such as, The UNDP Africa Project, The Latin American Coffee Growers Cooperative, The Malawi Women's Farming Program and The Royal Indian Tiger Reserve Project. 9th Street's partnership with these and other non-profit groups allows us the unique opportunity to provide a high quality, great tasting unique line of products, but more importantly, it helps enhance the lives of those who work so hard to bring it to us.
Questions? email us at info@9thstreetcoffee.com