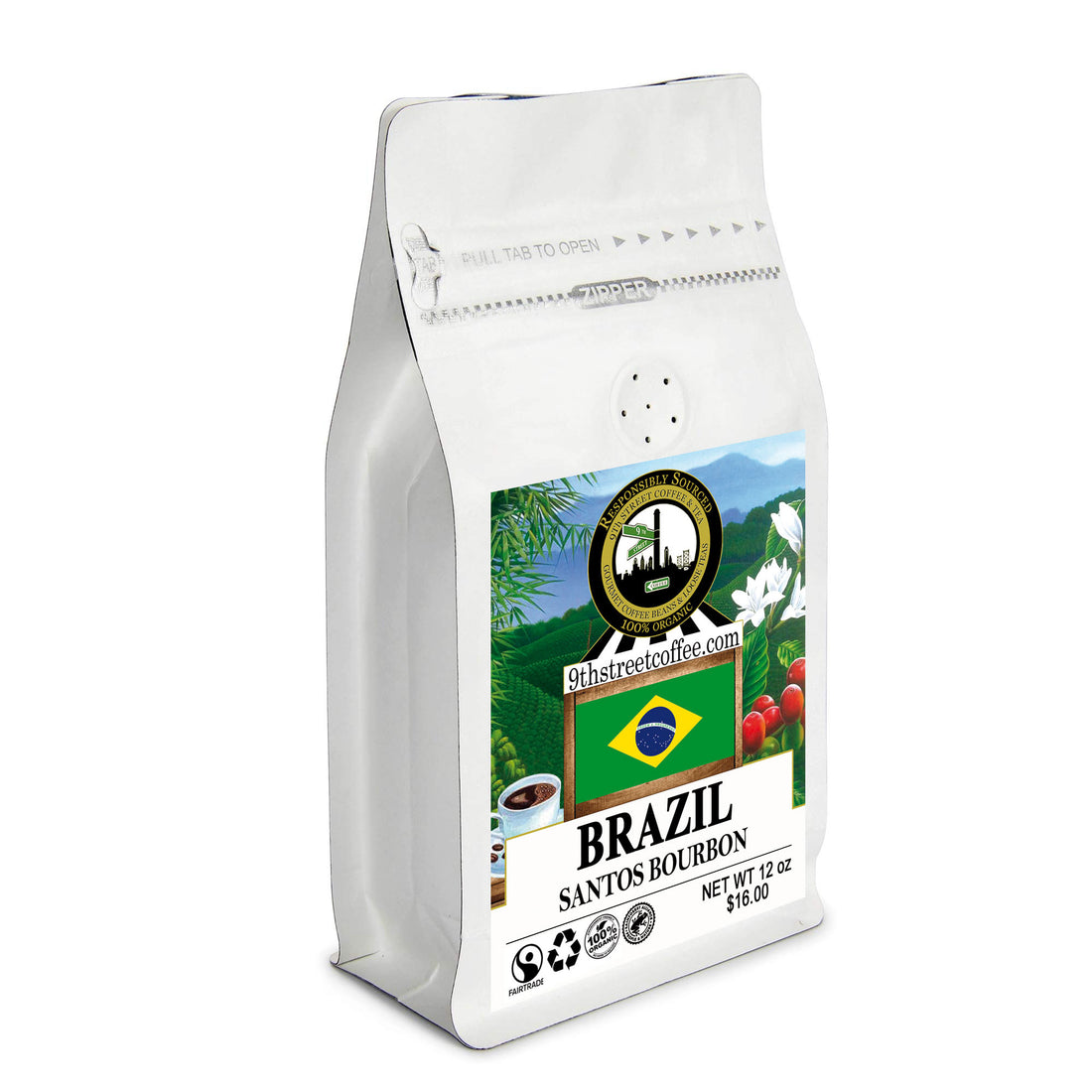 Organic Brazilian Santos Coffee
9th Street Coffee's Brazil Santos Arabica is reminiscent of the colorful festivities and the rhythmic samba of Carnival. Brazil is also famous for being the largest coffee producer in the world. Like the complex cross-rhythms of the samba and the vibrant drum parades of Carnival, our Brazil Arabica boasts a robust, full-bodied flavor. The richly aromatic beans produce a strong, explosive flavor with layers of nut and subtle toffee tones. 9th Street Coffee carefully selects the best single-origin, organic beans that Brazil has to offer and roasts them to perfection – unleashing the coffee's bold, confident character. Certain to please stalwart aficionados and curious newcomers, we invite you to experience our unique Brazilian Santos Arabica today.
Roast Level: Full City
Caffeine Level: Medium - Medium/High
Acidity Level: Medium
Varietal: Arabica
Elevation: 1,800 - 3,600 ft above sea level
Region: Northern Sao Paulo
Accreditation: Certified Organic - Owner Operated - Single Origin - Single Plantation - Recycled/Biodegradable Packaging
Powerful notes of Brazil nuts and macadamia with a spice dark chocolate finish
Orders of 5 lbs or more require 2-3 days for processing
9th Street Coffee
ORGANIC, FAIR TRADE & RESPONSIBLY SOURCED
100% Organic & Responsibly Sourced Coffee Beans & Teas are more than just a slogan. We are proud to align ourselves with such environmentally conscious organization such as, The UNDP Africa Project, The Latin American Coffee Growers Cooperative, The Malawi Women's Farming Program and The Royal Indian Tiger Reserve Project. 9th Street's partnership with these and other non-profit groups allows us the unique opportunity to provide a high quality, great tasting unique line of products, but more importantly, it helps enhance the lives of those who work so hard to bring it to us.
Questions? email us at info@9thstreetcoffee.com