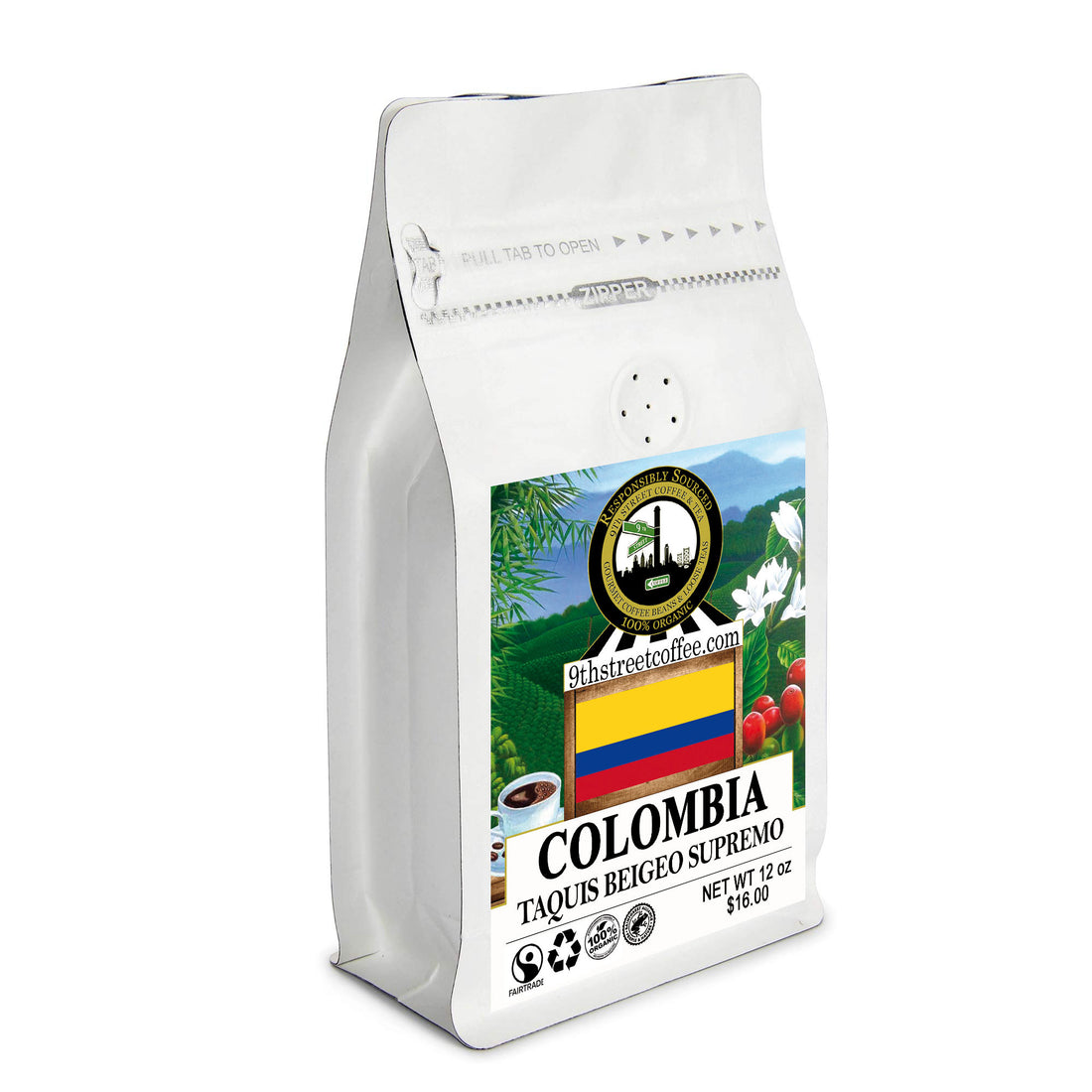 Organic Colombian Taquis Beigeo Supremo Coffee
For well over a century, Colombia has shared the gift of high-quality coffee with the world. 9th Street Coffee continues this tradition by offering our carefully curated Colombian Supremo. A superlative example of the best that Colombian coffee has to offer, our 100% organic Supremo is grown at a higher altitude than other Colombian coffees. Only a small portion of beans meets our strict quality standards for inclusion in this elite brew. The plump beans that graduate to the Supremo level create a rich coffee with absolute consistency throughout each harvest. The warm inviting aroma melts into a smooth, medium-bodied beverage, replete with the flavors of dark chocolate, almonds, and a hint of Brazil nuts. The natural sweetness of the beans expresses itself through the coffee's lovely after-notes. If you enjoy all the hallmarks of fine Colombian coffee, you will love Colombian Supremo.
Roast Level: City Roast plus 3
Caffeine Level: Medium - Medium/High
Acidity Level: j Medium
Varietal: Certified Colombian Supremo Arabica Grade 18
Elevation: 3,000 - 4,500 ft above sea level
Accreditation: Certified Organic - Owner Operated - Single Origin - Single Plantation - Recycled/Biodegradable Packaging
Even toned blend of dark chocolate and toasted almond and Brazil nuts
Orders of 5 lbs or more require 2-3 days for processing
9th Street Coffee
ORGANIC, FAIR TRADE & RESPONSIBLY SOURCED
100% Organic & Responsibly Sourced Coffee Beans & Teas are more than just a slogan. We are proud to align ourselves with such environmentally conscious organization such as, The UNDP Africa Project, The Latin American Coffee Growers Cooperative, The Malawi Women's Farming Program and The Royal Indian Tiger Reserve Project. 9th Street's partnership with these and other non-profit groups allows us the unique opportunity to provide a high quality, great tasting unique line of products, but more importantly, it helps enhance the lives of those who work so hard to bring it to us.
Questions? email us at info@9thstreetcoffee.com