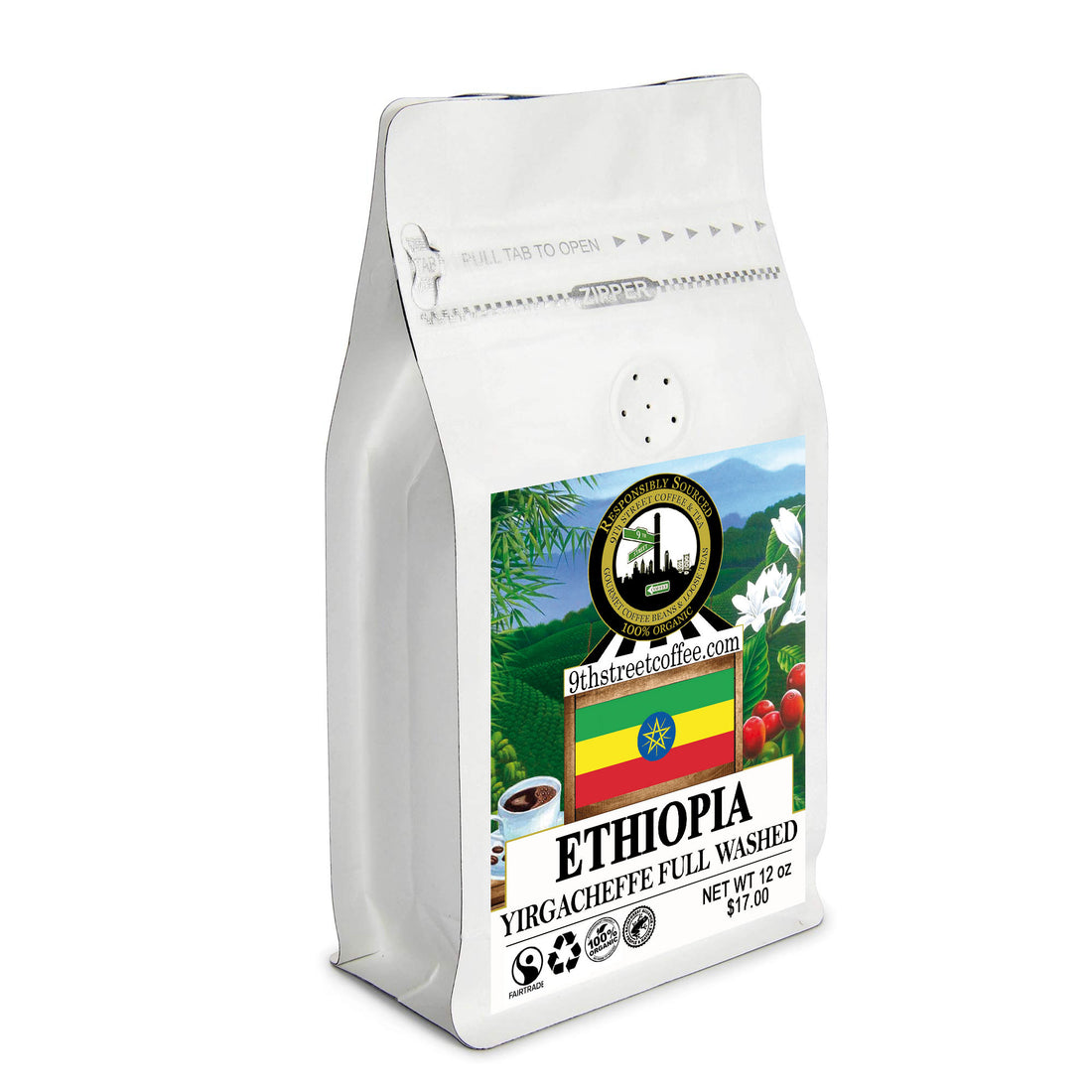 Organic Ethiopian Yirgacheffe Full Washed
9th Street Coffee is thrilled to offer this rare fully washed coffee from southern Ethiopia's loftiest heights. This heirloom Arabica is grown at soaring ranges of 1700 to 2200 meters above sea level. The beans are perfumed with a rich aroma replete with berry and earthy tones. Once brewed, the beverage pours as a deep mahogany with shades of garnet. Our Ethiopian Yirgacheffe washed yields a full-bodied, complex, and intense world of citrus and earth notes, coupled with bergamot. You may find this coffee remarkably similar to some black teas. As you savor this beverage, the flavor profile evolves, thus allowing you to experience several facets of its stunning profile. This 100% organic coffee is fully washed, as is typical for this varietal in this region. If you have never experienced an Ethiopian coffee, we invite you to explore our Ethiopian Yirgacheffe.
Roast Level: City Roast minus 5
Caffeine Level: Medium
Acid Level: Low - Low /Medium
Processed: Full Washed
Varietal: Full Washed Arabica
Elevation: 5,200 - 6,600 ft above sea level
Region: Yirgacheffe Ethiopia
Accreditation: Certified Organic - Fair Trade - Single Origin - Single Plantation - Recycled/Biodegradable Packaging
Floral lemongrass tones with a lingering dry white wine finish
Orders of 5 lbs or more require 2-3 days for processing
9th Street Coffee
ORGANIC, FAIR TRADE & RESPONSIBLY SOURCED
100% Organic & Responsibly Sourced Coffee Beans & Teas are more than just a slogan. We are proud to align ourselves with such environmentally conscious organization such as, The UNDP Africa Project, The Latin American Coffee Growers Cooperative, The Malawi Women's Farming Program and The Royal Indian Tiger Reserve Project. 9th Street's partnership with these and other non-profit groups allows us the unique opportunity to provide a high quality, great tasting unique line of products, but more importantly, it helps enhance the lives of those who work so hard to bring it to us.
Questions? email us at info@9thstreetcoffee.com