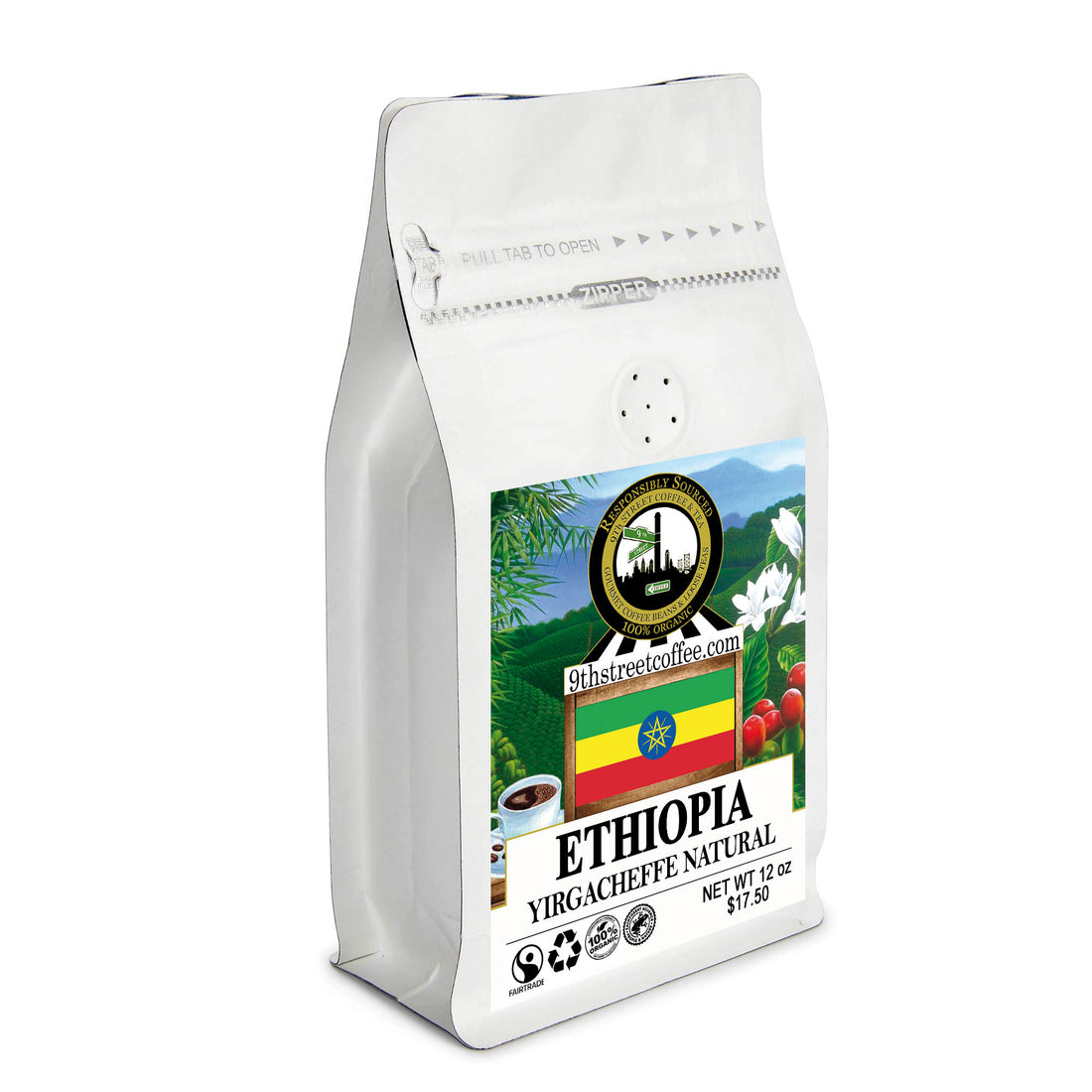 Organic Ethiopian Yirgacheffe Natural
9th Street Coffee's Ethiopian Yirgacheffe is widely considered to be the crown jewel of the Ethiopian coffee trade. Our fresh roasted Organic Ethiopian Yirgacheffe is a wet-processed bean boasting a medium low acid body. As is typical with coffees from this region, our organic Ethiopian Yirgacheffe has a distinctively fruity flavor and a bright, floral aroma thanks to the strict quality standards followed during harvesting. Our beans are cultivated at an elevation between 5,800 to 6,600 feet to bring you a memorable drinking experience.
Roast Level: City Roast minus 5
Caffeine Level: Medium
Acid Level: Low - Low /Medium
Processed: Wet Processed
Varietal: Arabica
Elevation: 5,800 - 6,600 ft above sea level
Region: Sidamo Yirgacheffe
Accreditation: Certified Organic - Fair Trade - Single Origin - Single Plantation - Recycled/Biodegradable Packaging
Even tempered roast with pronounced citrus and nectarine accents
Orders of 5 lbs or more require 2-3 days for processing
9th Street Coffee
ORGANIC, FAIR TRADE & RESPONSIBLY SOURCED
100% Organic & Responsibly Sourced Coffee Beans & Teas are more than just a slogan. We are proud to align ourselves with such environmentally conscious organization such as, The UNDP Africa Project, The Latin American Coffee Growers Cooperative, The Malawi Women's Farming Program and The Royal Indian Tiger Reserve Project. 9th Street's partnership with these and other non-profit groups allows us the unique opportunity to provide a high quality, great tasting unique line of products, but more importantly, it helps enhance the lives of those who work so hard to bring it to us.
Questions? email us at info@9thstreetcoffee.com