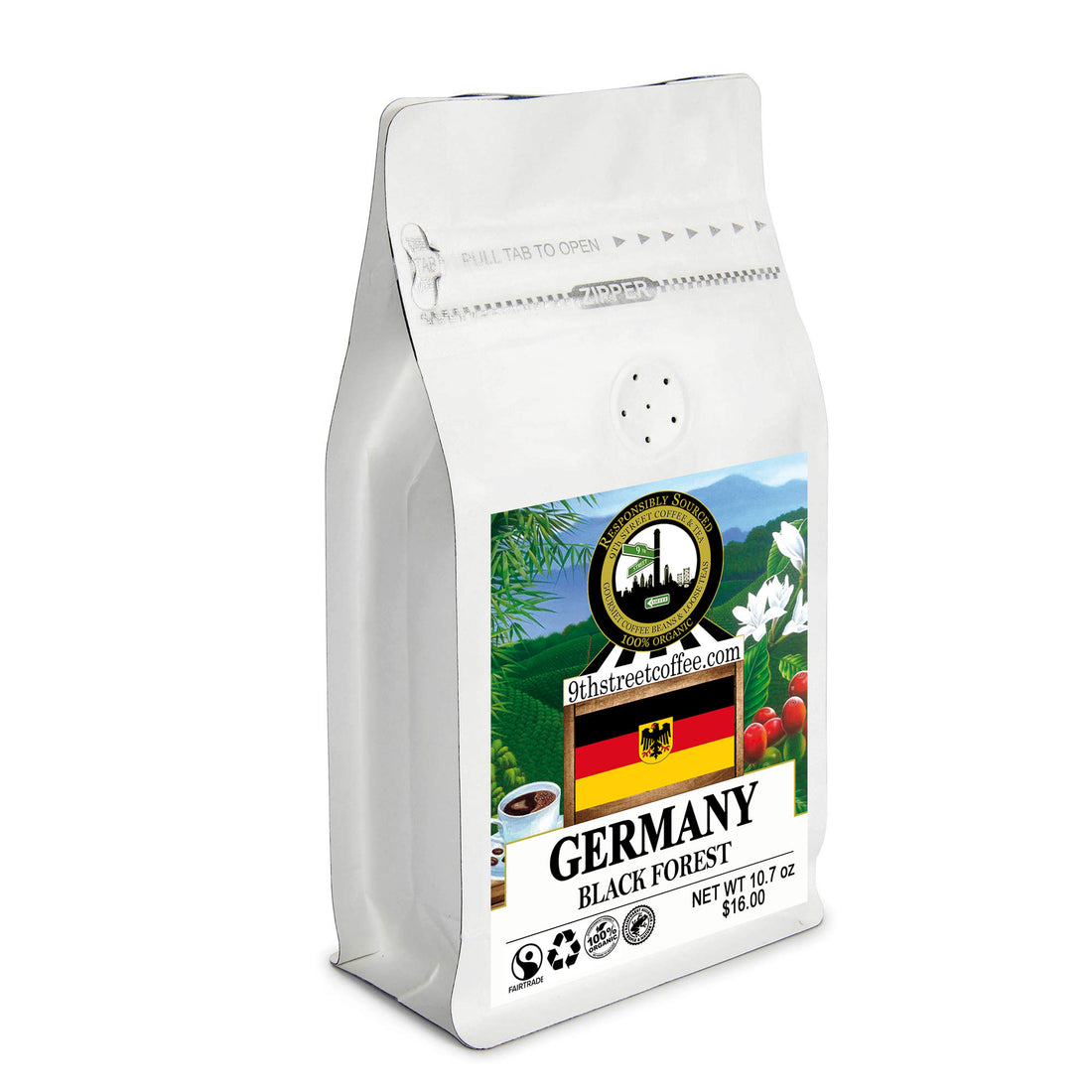 Organic German Black Forest Coffee
Coffee in Germany has a true royal start. It was first introduced to German travelers in the 1500's in Aleppo Syria. Rumors suggest that the travelers did not take to it, claiming it was too humid to enjoy such a hot drink. It wasn't until the early 1700's that King Frederick granted approval for an Englishman to open the first German café in Hamburg. Since that first offering, coffee has consistently outsold beer and wine and is more consumed than water. The traditional German Kaffee has not changed in the 300 years since- it consists of a precise blend of Central and North African Arabica beans roasted to a specific darker level. This blend offers a deep tea like earthy note with a sweet nuttiness in the background. However you prepare your morning brew, this will certainly give you a great start to your day.
Roast Level: Full City roast plus 5
Caffeine Level:Medium - Medium/High
Acidity Level: Medium
Varietal:South American/African Arabica
Elevation:500 - 4,000 ft above sea level
Region: South American & North African Blend
Accreditation:Certified Organic - 9th Street Creation - Recycled/Biodegradable Packaging
Crips baker's chocolate notes with delicate caramel and butter undertones
Orders of 5 lbs or more require 2-3 days for processing
9th Street Coffee
ORGANIC, FAIR TRADE & RESPONSIBLY SOURCED
100% Organic & Responsibly Sourced Coffee Beans & Teas are more than just a slogan. We are proud to align ourselves with such environmentally conscious organization such as, The UNDP Africa Project, The Latin American Coffee Growers Cooperative, The Malawi Women's Farming Program and The Royal Indian Tiger Reserve Project. 9th Street's partnership with these and other non-profit groups allows us the unique opportunity to provide a high quality, great tasting unique line of products, but more importantly, it helps enhance the lives of those who work so hard to bring it to us.
Questions? email us at info@9thstreetcoffee.com