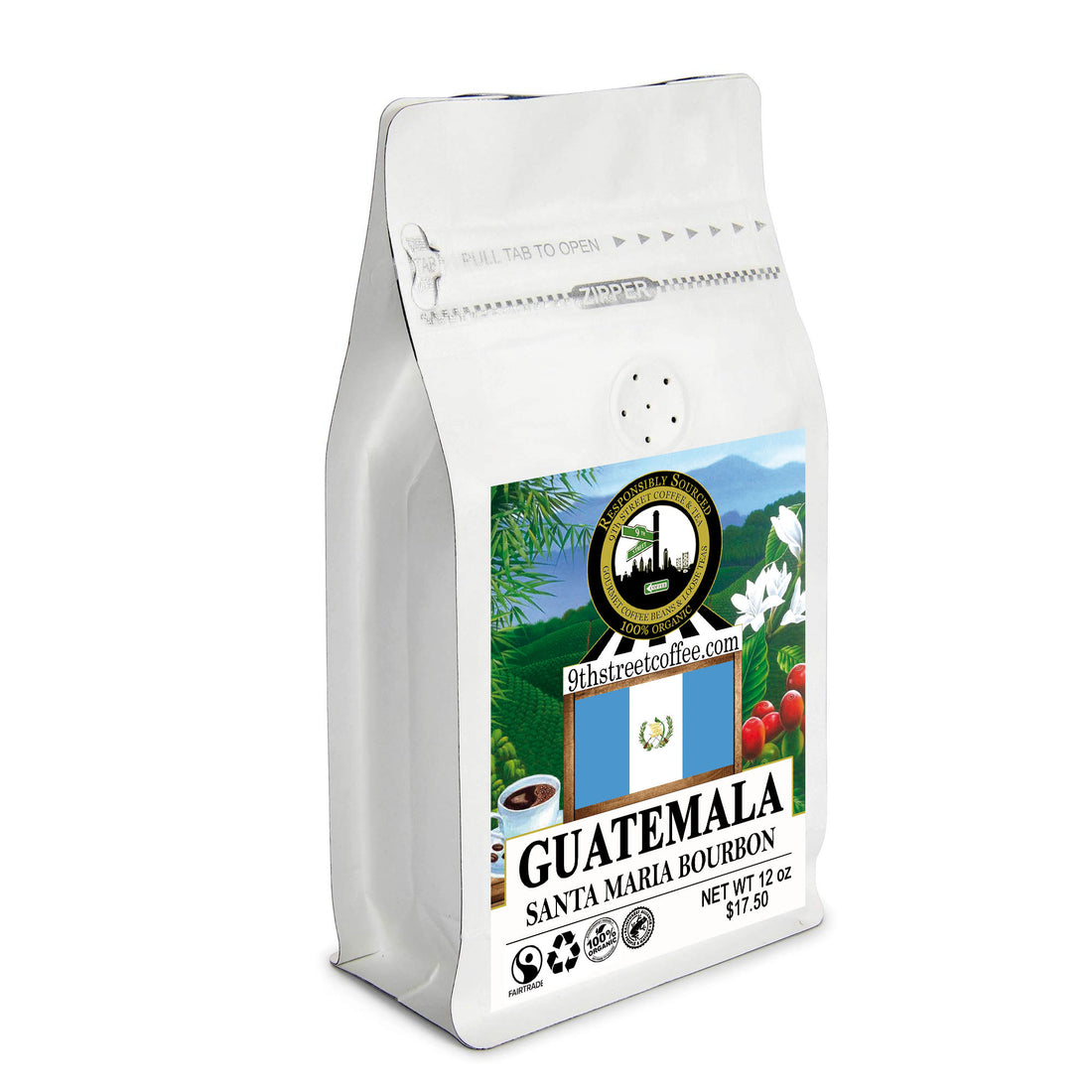 Organic Guatemalan Santa Maria Bourbon Coffee
While Antigua is know as the most popular coffee growing region in Guatemala, traveling just outside Guatemala City introduces coffee lovers to a unique variety of beans that is most commonly found in Africa. 9th Street is fortunate to have secured the opportunity to import Guatemala's hidden treasure, The Santa Marie Bourbon Coffee. This rich and complex variety is grown in the high-peak mountainous areas surrounding Lake Amatitlan. Historically reserved for 5-Star restaurants and resorts, this rare Central American Bourbon offers a solidly bold low-acid earthy note with a distinctive chocolate raspberry finish. 9th Streets Santa Marie Bourbon Coffee is a gift you can savor every time you want a great start to your day.
Roast Level: City plus 9
Caffeine Level: Medium - High
Acidity Level: Low
Varietal: Certified Bourbon
Elevation: 4,800 - 6,400 ft above sea level
Region: Antigua
Accreditation: Certified Organic - Fair Trade - Single Origin - Single Plantation - Recycled/Biodegradable Packaging
Mild & smooth notes of dark chocolate & a soft fruity finish
Orders of 5 lbs or more require 2-3 days for processing
9th Street Coffee
ORGANIC, FAIR TRADE & RESPONSIBLY SOURCED
100% Organic & Responsibly Sourced Coffee Beans & Teas are more than just a slogan. We are proud to align ourselves with such environmentally conscious organization such as, The UNDP Africa Project, The Latin American Coffee Growers Cooperative, The Malawi Women's Farming Program and The Royal Indian Tiger Reserve Project. 9th Street's partnership with these and other non-profit groups allows us the unique opportunity to provide a high quality, great tasting unique line of products, but more importantly, it helps enhance the lives of those who work so hard to bring it to us.
Questions? email us at info@9thstreetcoffee.com