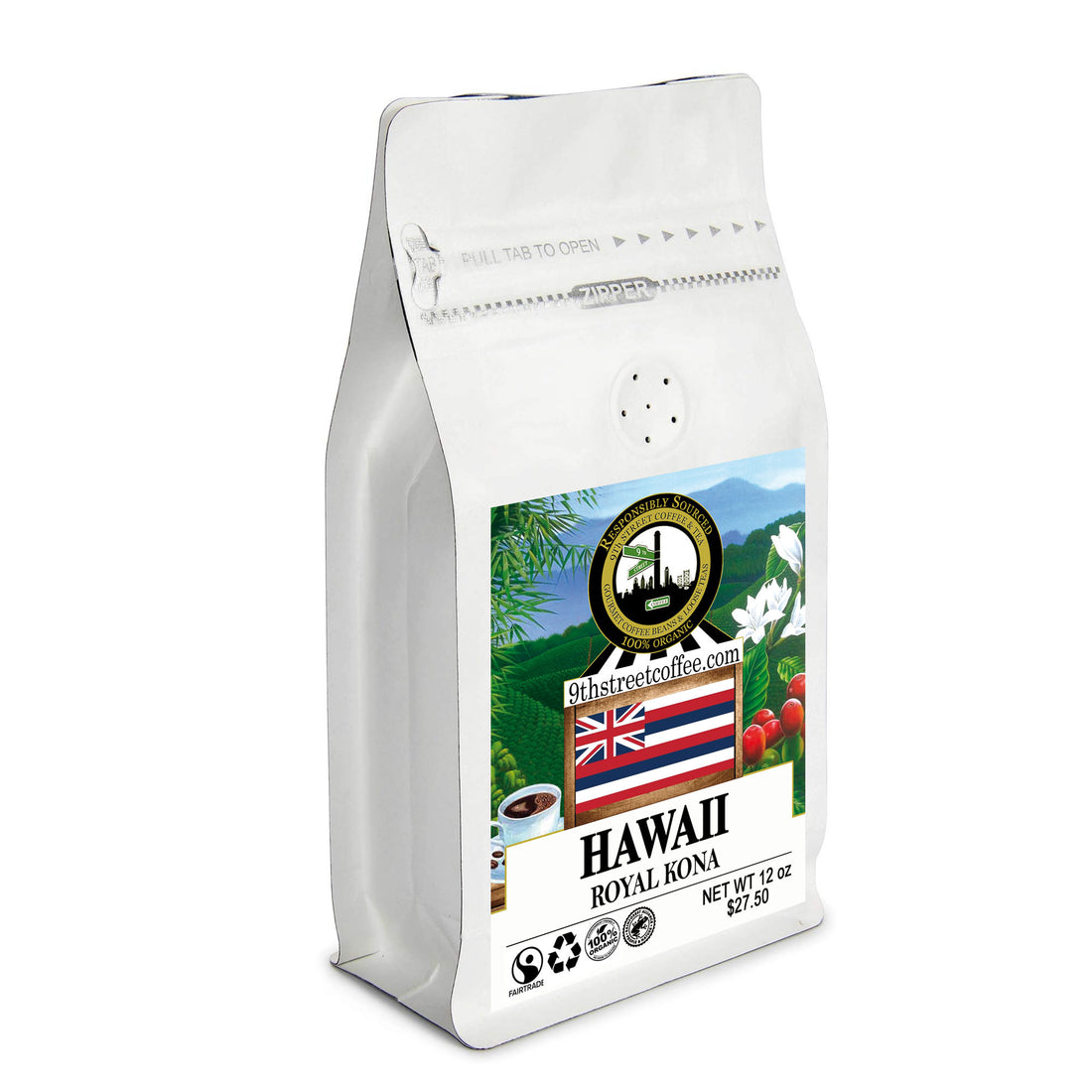 Organic Hawaii Royal Kona Coffee
The Big Island of America's 50th state offers warm air perfumed by plumeria flowers, soft rains, and world-renowned coffee. Hailing from the volcanic soil of western Hawaii and grown at elevations of 500 to 2500 feet, our Hawaii Royal Kona bears all the hallmarks of this highly-esteemed bean. Strikingly consistent and medium-bodied, the light, mild flavor of Hawaii Royal Kona is easily enjoyed black. With warm, rich notes of toffee and dates, these distinctive beans are cherished by coffee aficionados throughout the world. Single-origin and 100% organic, 9th Street Coffee's Hawaii Royal Kona is the perfect Aloha to gently ease you into a weekday morning or celebrate the weekend. We welcome all to enjoy this remarkable coffee from America's own island archipelago. Mahalo!
Roast Level: City roast plus 5
Caffeine Level: Medium
Acidity Level: Medium/Medium/Low
Varietal: Kona Arabica
Elevation: 600 - 2,500 ft above sea level
Region: Kona Coffee Belt Big Island Hawaii USA
Accreditation: Certified Organic - Owner Operated - Single Origin - Single Plantation - Recycled/Biodegradable Packaging
Toasted brown sugar, warm chocolate, and a floral fruit finish
Orders of 5 lbs or more require 2-3 days for processing
9th Street Coffee
ORGANIC, FAIR TRADE & RESPONSIBLY SOURCED
100% Organic & Responsibly Sourced Coffee Beans & Teas are more than just a slogan. We are proud to align ourselves with such environmentally conscious organization such as, The UNDP Africa Project, The Latin American Coffee Growers Cooperative, The Malawi Women's Farming Program and The Royal Indian Tiger Reserve Project. 9th Street's partnership with these and other non-profit groups allows us the unique opportunity to provide a high quality, great tasting unique line of products, but more importantly, it helps enhance the lives of those who work so hard to bring it to us.
Questions? email us at info@9thstreetcoffee.com