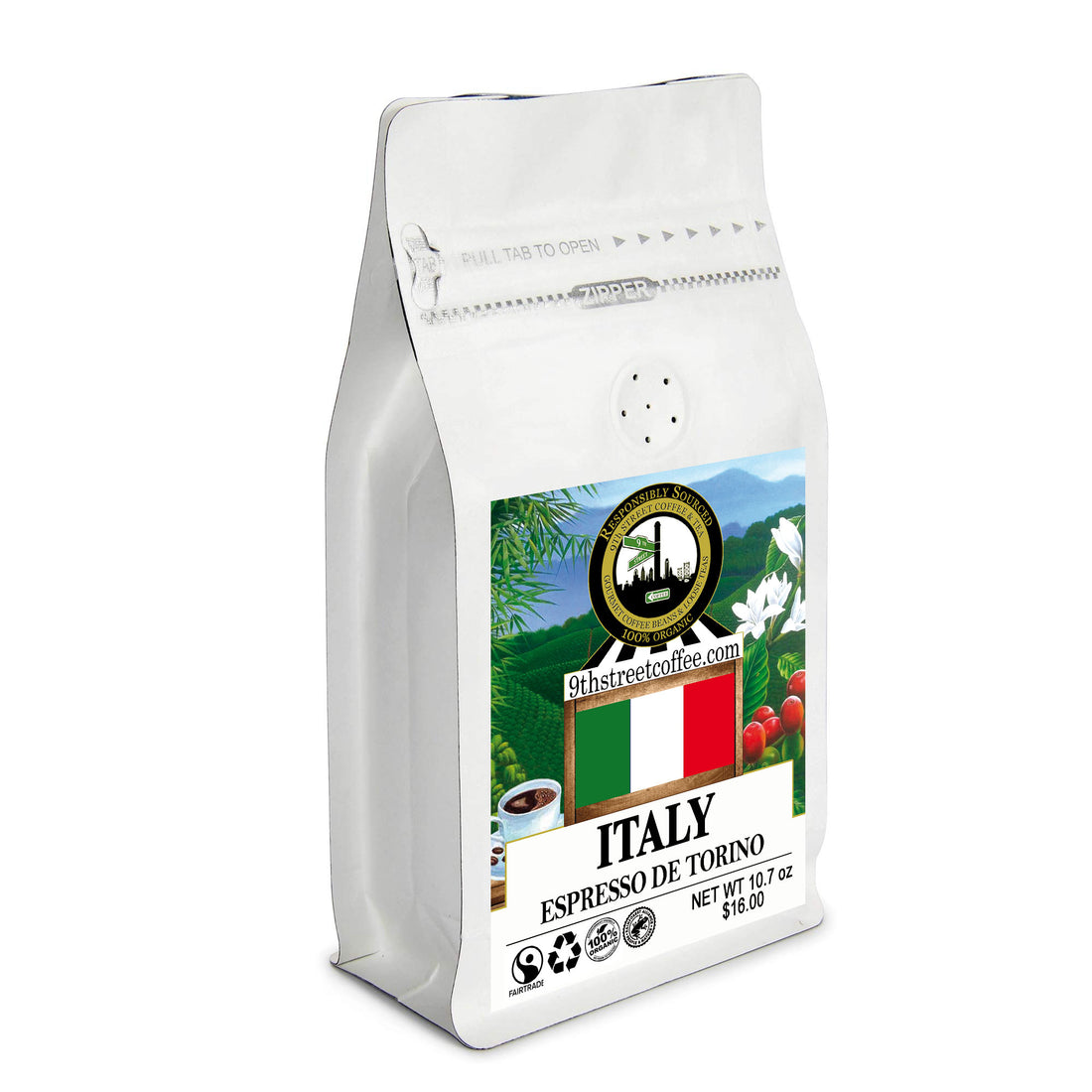 Organic Italian Espresso de Torino Cafe
Meet our version of black gold – the Italian Espresso. Crafted using a "wet roast" process in our vintage roasting machine, our Italian Espresso represents the finest qualities of this northern Italian classic. Our wet-roasting process maintains humidity, thus preserving the natural oils that enrich the flavor of the beans. The result is a deeply aromatic coffee with an intense flavor and a subtly sweet aftertaste. Despite its strength, there is no bitterness to mar the smooth taste. Perfect alone or paired with your favorite biscotti, enjoy our Italian Espresso and imagine yourself relaxing in the foothills of the Bergamese Alps.
Roast Level: Italian Espresso Roast
Caffeine Level: High
Acidity Level: Medium
Varietal: Certified Organic South American Arabica/Robusta Blend
Elevation: 1,500 - 4,200 ft above sea level
Region: South /Central America
Accreditation: Certified Organic - 9th Street Creation = Fair Trade - Recycled/Biodegradable Packaging
Bold and classy flavor with delicate sweetness from toffee chocolate undertones
Orders of 5 lbs or more require 2-3 days for processing
9th Street Coffee
ORGANIC, FAIR TRADE & RESPONSIBLY SOURCED
100% Organic & Responsibly Sourced Coffee Beans & Teas are more than just a slogan. We are proud to align ourselves with such environmentally conscious organization such as, The UNDP Africa Project, The Latin American Coffee Growers Cooperative, The Malawi Women's Farming Program and The Royal Indian Tiger Reserve Project. 9th Street's partnership with these and other non-profit groups allows us the unique opportunity to provide a high quality, great tasting unique line of products, but more importantly, it helps enhance the lives of those who work so hard to bring it to us.
Questions? email us at info@9thstreetcoffee.com