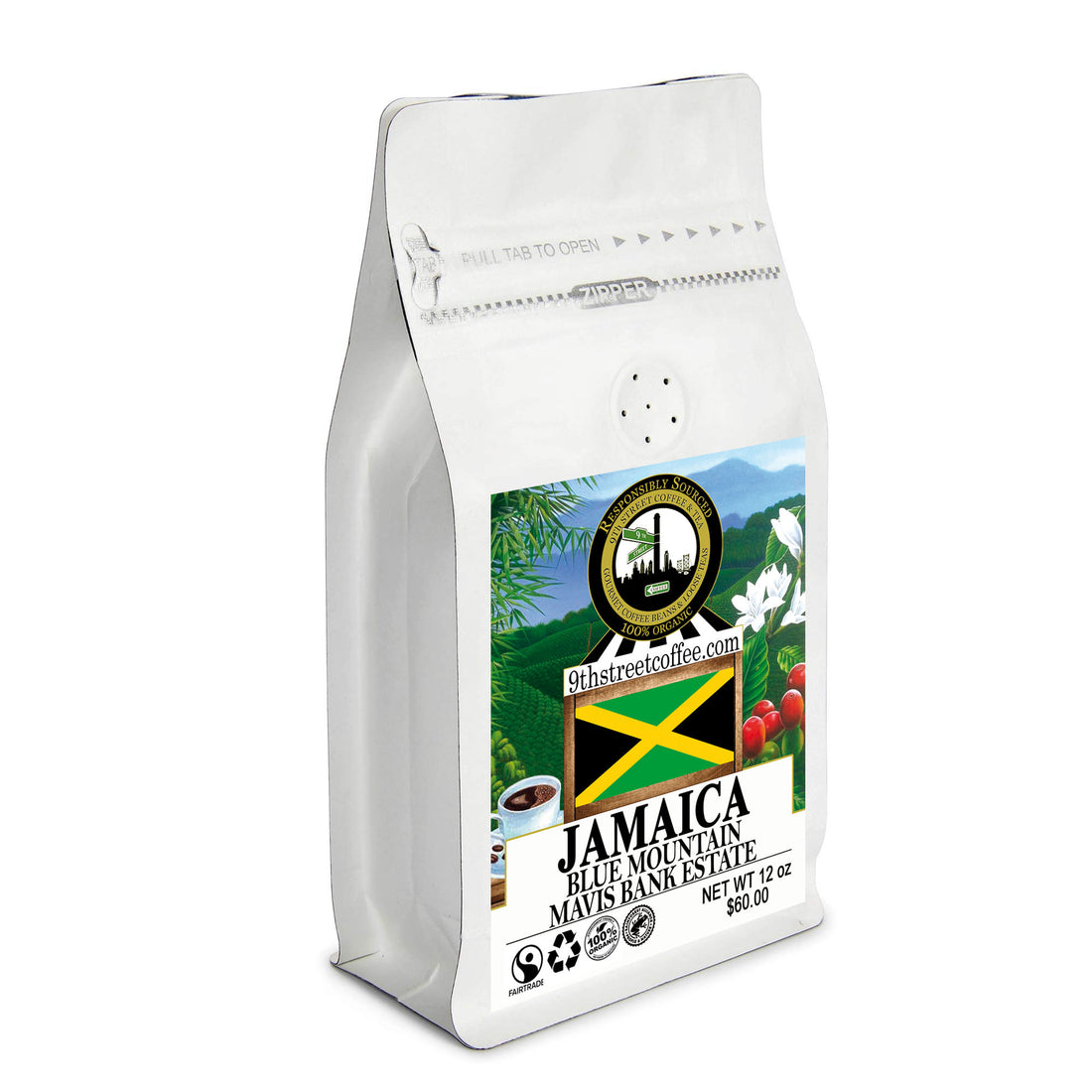 Organic Jamaican Blue Mountain Mavis Bank Estate Coffee
We proudly present one of the most sought-after coffees in the world: Jamaican Blue Mountain Mavis-Bank Estate Coffee. Grown in the Blue Mountain region just ten miles northeast of Kingston, Mavis Estate is born from mineral-rich soil found at soaring altitudes over 7,000 feet. At those cool, misty heights, Jamaican Blue Mountain Mavis Estate Coffee slowly matures into a jewel with caffeine levels that rival or surpass espresso, yet which offers a taste that is smooth, mild, and clear, with a nutty finish and no bitterness. Imbibing this rare beverage is an experience surely to be treasured and not to be missed. We invite you to reward yourself with this exquisite bean!
Roast Level: City Roast
Caffeine Level: High
Acidity Level: Very Low
Varietal: Certified Mavis Bank Estate
Region: Jamaicans Eastern Mountains
Elevation: 7,400 ft - 9,000 ft above sea level
Accreditation: Certified Organic -Single Origin - Single Certified Estate Plantation - Recycled/B
Herbal smoothness with a caramelized almond finish
Orders of 5 lbs or more require 2-3 days for processing
9th Street Coffee
ORGANIC, FAIR TRADE & RESPONSIBLY SOURCED
100% Organic & Responsibly Sourced Coffee Beans & Teas are more than just a slogan. We are proud to align ourselves with such environmentally conscious organization such as, The UNDP Africa Project, The Latin American Coffee Growers Cooperative, The Malawi Women's Farming Program and The Royal Indian Tiger Reserve Project. 9th Street's partnership with these and other non-profit groups allows us the unique opportunity to provide a high quality, great tasting unique line of products, but more importantly, it helps enhance the lives of those who work so hard to bring it to us.
Questions? email us at info@9thstreetcoffee.com