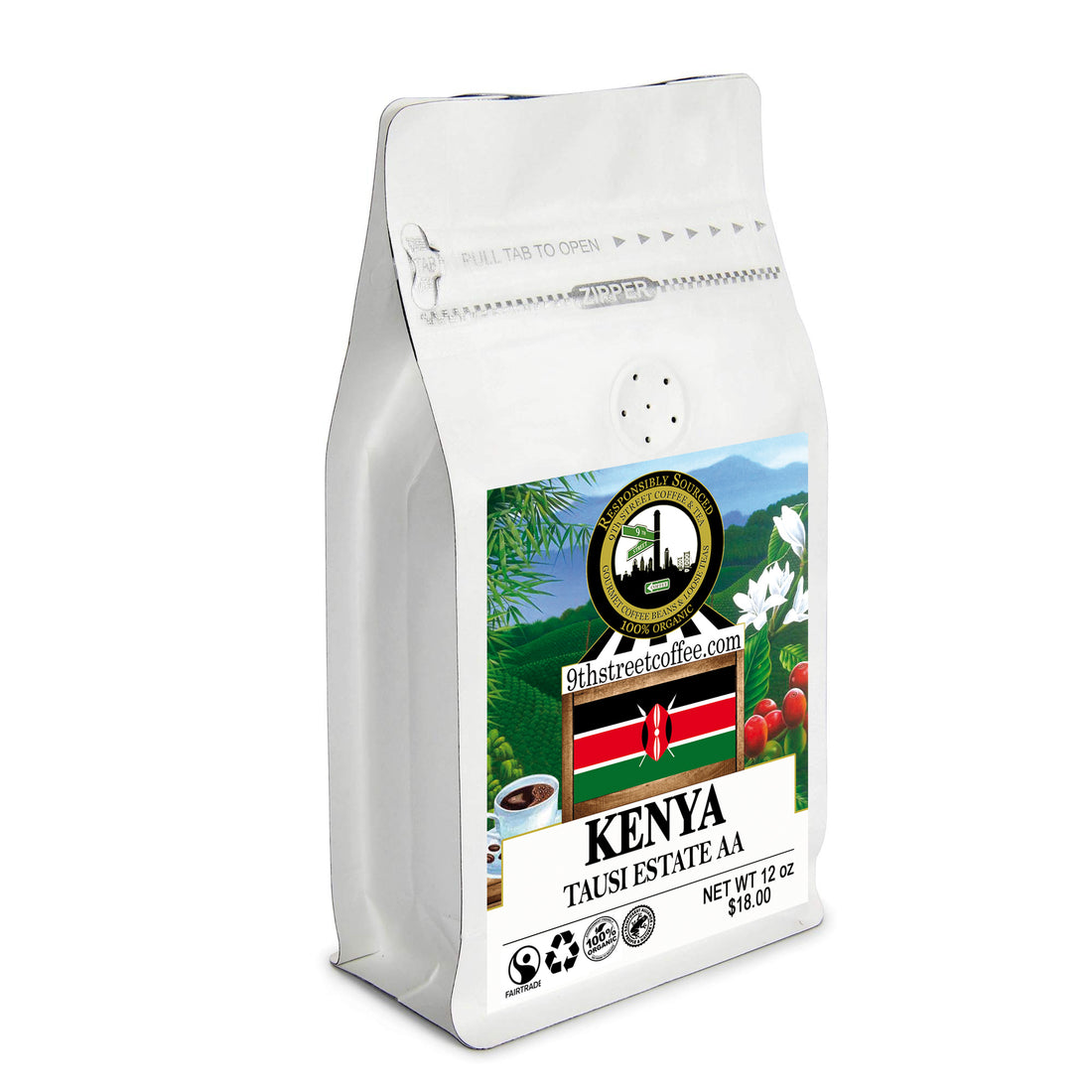 Organic Kenyan Tausi Estate AA
Grown in the shadowy slopes of Mt. Kenya, 9th Street is proud to offer this star from East Africa. Jewel of the African coffees, our Kenya proudly boasts a magnificent wine-like aroma. As you sip the freshly brewed beverage, you instantly encounter its vibrance and dancing brightness, which is followed by a tapestry of complex, sparkling notes of wine, fruit, and spice. This 100% organic coffee is energizing and delightful. Consistent with our commitment to enhance the lives of coffee farmers, the Tausi estate uses the latest sustainable farming techniques and is certified fair trade with excellent working conditions. Additionally, a portion of proceeds from 9th Street Coffee's Kenya Tausi Estate supports the local Kenyan community through education efforts.
Roast Level: Full City plus 3
Caffeine Level: High
Acidity Level: Medium - High
Varietal: Certified AA Arabica
Elevation: 4,200 - 6,000 ft above sea level
Accreditation: Certified Organic - Certified AA - Fair Trade - Single Origin - Single Plantation - Recycled/Biodegradable Packaging
Tangy black currant and smooth bergamot dominant with a subtle wine finish
Orders of 5 lbs or more require 2-3 days for processing
9th Street Coffee
ORGANIC, FAIR TRADE & RESPONSIBLY SOURCED
100% Organic & Responsibly Sourced Coffee Beans & Teas are more than just a slogan. We are proud to align ourselves with such environmentally conscious organization such as, The UNDP Africa Project, The Latin American Coffee Growers Cooperative, The Malawi Women's Farming Program and The Royal Indian Tiger Reserve Project. 9th Street's partnership with these and other non-profit groups allows us the unique opportunity to provide a high quality, great tasting unique line of products, but more importantly, it helps enhance the lives of those who work so hard to bring it to us.
Questions? email us at info@9thstreetcoffee.com