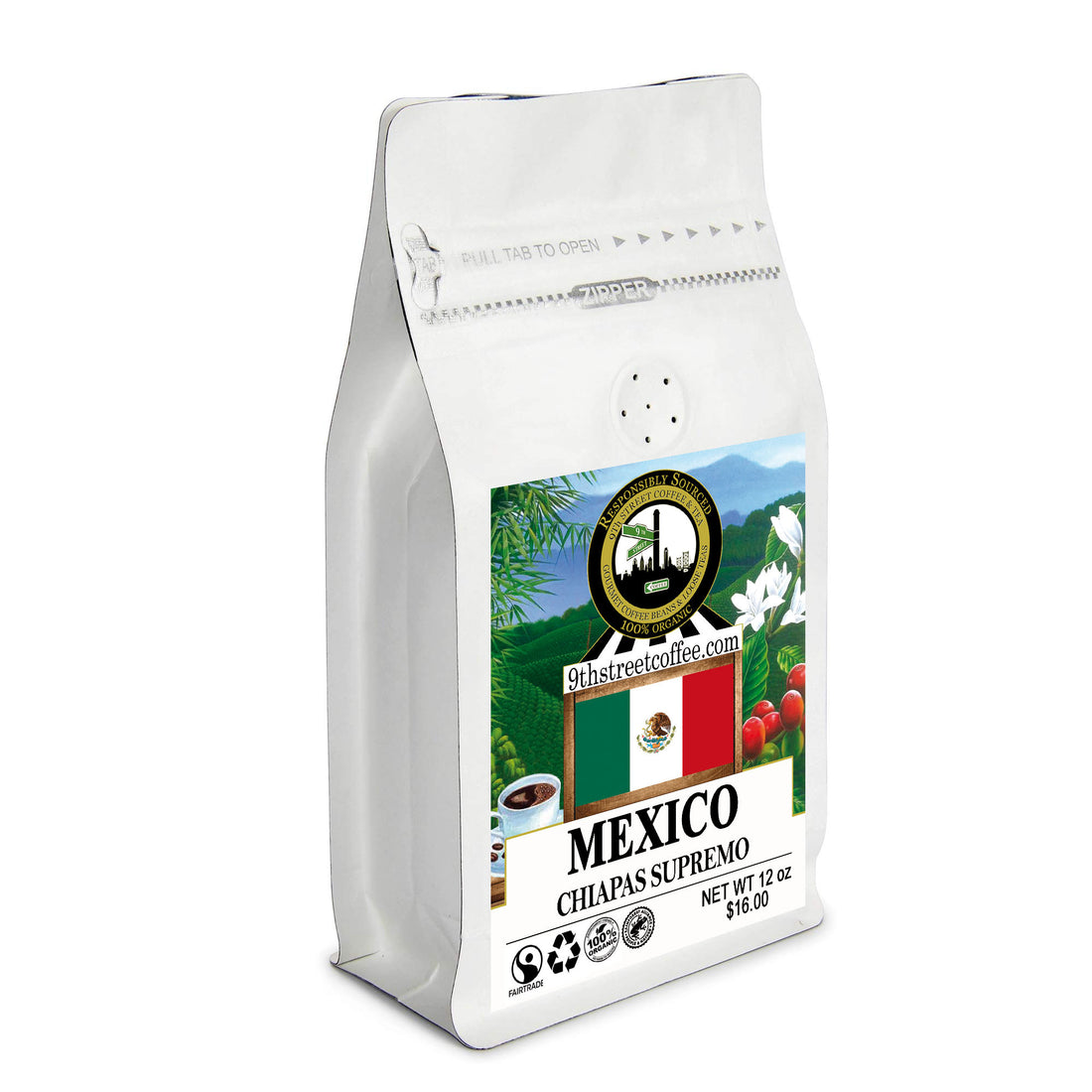 Organic Mexican Chiapas Supremo Coffee
History teaches that coffee first arrived in Mexico in the late 1700s. Over the next several hundred years, coffee production spread across various areas of the country. 9th Street Coffee sources our Mexican Supremo from the coastal region of Soconusco, Chiapas, an area that lies near the border of Guatemala. As with our Colombian Supremo, only a limited number of beans meets our strict quality standards. To qualify for our Mexican Supremo, beans must reach high quality and sizing requirements. Unlike some of our other varieties from Central or South America, our Mexican Supreme gets your attention with a spark of light acidity. The later tones mellow to a medium nutty flavor, sometimes with a very subtle hint of earthy, dark chocolate. If you enjoy the flavor palette of Central and South American coffees, but prefer a bit more sparkling presence, our Mexican Supremo would be a perfect brew for you!
Roast Level: City Roast
Caffeine Level: Medium - Medium/High
Acidity Level: Medium
Varietal: Certified Supremo Arabica
Region: Chiapas Mexico
Elevation: 2,700 - 3,000 ft above sea level
Accreditation: Certified Organic - Fair Trade - Single Origin - Single Plantation - Recycled/Biodegradable Packaging
Bold earthiness with character delicate notes of caramelized almond and pecan
Orders of 5 lbs or more require 2-3 days for processing
9th Street Coffee
ORGANIC, FAIR TRADE & RESPONSIBLY SOURCED
100% Organic & Responsibly Sourced Coffee Beans & Teas are more than just a slogan. We are proud to align ourselves with such environmentally conscious organization such as, The UNDP Africa Project, The Latin American Coffee Growers Cooperative, The Malawi Women's Farming Program and The Royal Indian Tiger Reserve Project. 9th Street's partnership with these and other non-profit groups allows us the unique opportunity to provide a high quality, great tasting unique line of products, but more importantly, it helps enhance the lives of those who work so hard to bring it to us.
Questions? email us at info@9thstreetcoffee.com