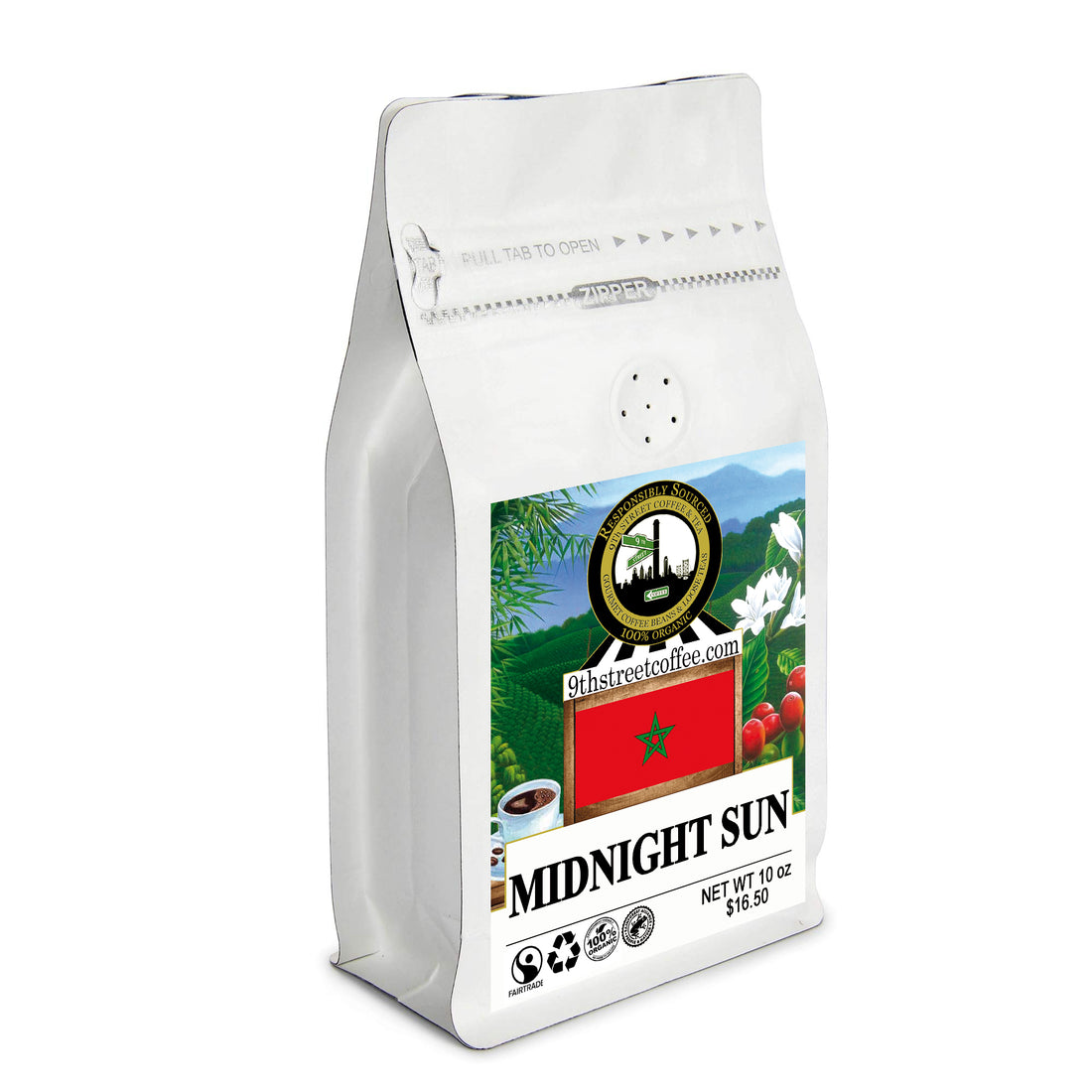 Organic Moroccan Midnight Sun
As you close your eyes and inhale the sweet and spicy aroma of 9th Street Coffee's Organic Moroccan Midnight Sun, imagine yourself waking up in a lavish Bedouin village on the outskirts of the Sahara. 9th Street Coffee's exclusive Midnight Sun captures the passion and excitement of the Casablanca spirit. With each cup you will savor the traditional combination of North African Arabica and Typica beans roasted to the perfect Arabian strength and blended with a Middle Eastern flair. The rich combination of Arabian roasted coffee, cinnamon, cloves, ginger, cardamon, nutmeg and freshly ground peppercorn will inspire you to pour another cup and say, "play it again Sam".
Roast Level: Arabian roast
Caffeine Level: Medium - Medium/High
Acidity Level: Medium
Varietal: North African Blend
Accreditation: Certified Organic - Recycled/Biodegradable Packaging
Ingredients: Arabian Roasted North African Coffee beans - Ginger - Cinnamon - Clove Powder - Cardamon - Black Pepper Corn - Nutmeg
Full bodied with earthen herbal tones of nutmeg, cardamom and cinnamon
Orders of 5 lbs or more require 2-3 days for processing
9th Street Coffee
ORGANIC, FAIR TRADE & RESPONSIBLY SOURCED
100% Organic & Responsibly Sourced Coffee Beans & Teas are more than just a slogan. We are proud to align ourselves with such environmentally conscious organization such as, The UNDP Africa Project, The Latin American Coffee Growers Cooperative, The Malawi Women's Farming Program and The Royal Indian Tiger Reserve Project. 9th Street's partnership with these and other non-profit groups allows us the unique opportunity to provide a high quality, great tasting unique line of products, but more importantly, it helps enhance the lives of those who work so hard to bring it to us.
Questions? email us at info@9thstreetcoffee.com