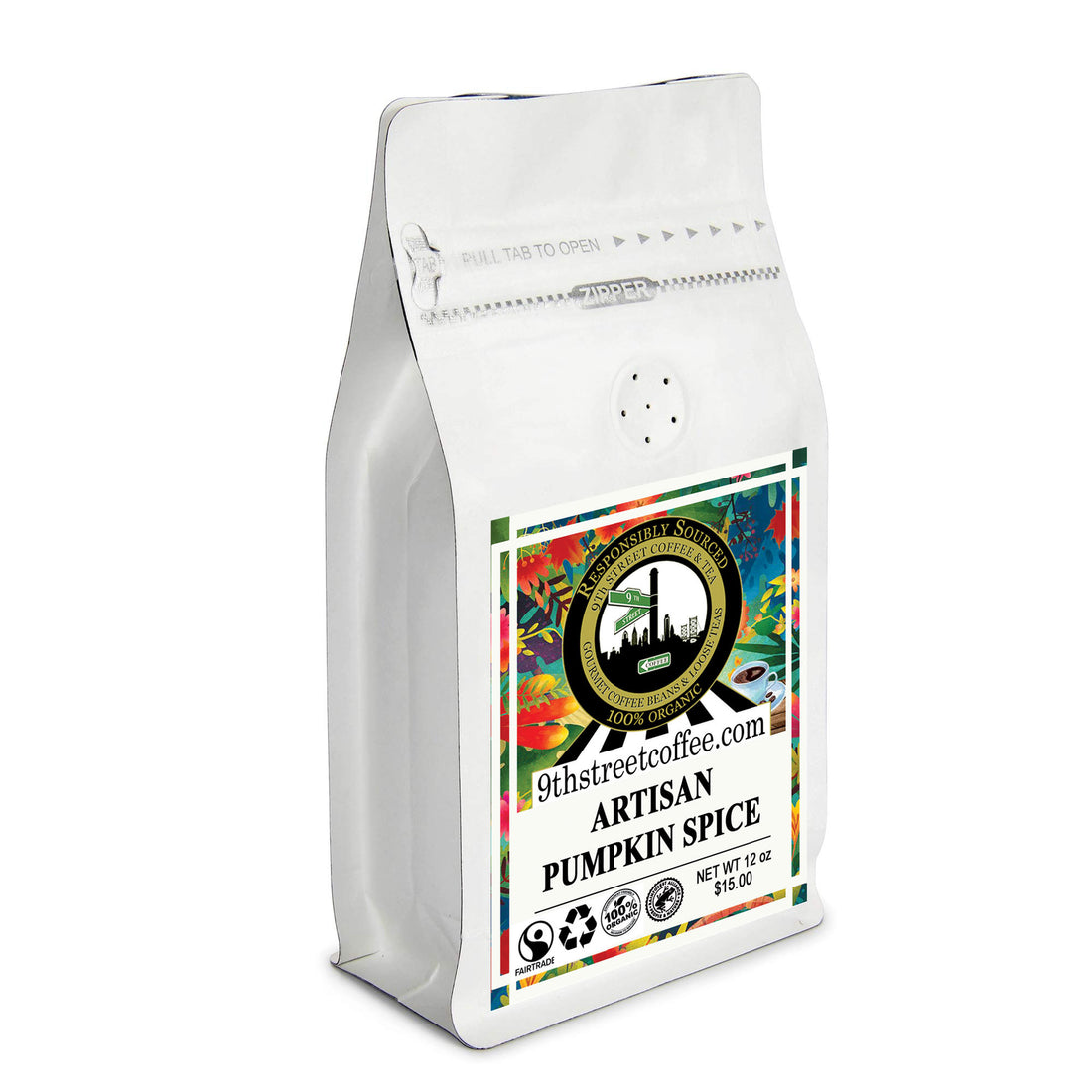 Organic Pumpkin Spice Artisan Coffee
Just in time for fall or any season, 9th Street Coffee welcomes Pumpkin Spice to its collection of artisanal flavored coffees. As you watch the greens of summer transition to brilliant red, umber, and amber foliage of autumn, you can enjoy the smooth, rich taste of our Pumpkin Spice. Like a homemade slice of pumpkin pie, our Pumpkin Spice greets you with the robust flavors of cinnamon, cloves, and allspice. As with our other flavored varieties, Pumpkin Spice is crafted by blending our high quality Arabica beans with natural flavors and spices. Excellent when enjoyed black or tailored with milk and sugar, we invite you to add our Pumpkin Spice coffee to a cozy autumn day.
Roast Level: City Roast
Caffeine Level: MEDIUM
Acidity Level: LOW (due to the addition of organic maple syrup)
Varietal: Colombian Excelso Arabica
Accreditation: Certified Organic - Fair Trade - Single Origin - Single Plantation - Recycled/Biodegradable Packaging
Orders of 5 lbs or more require 2-3 days for processing
9th Street Coffee
ORGANIC, FAIR TRADE & RESPONSIBLY SOURCED
100% Organic & Responsibly Sourced Coffee Beans & Teas are more than just a slogan. We are proud to align ourselves with such environmentally conscious organization such as, The UNDP Africa Project, The Latin American Coffee Growers Cooperative, The Malawi Women's Farming Program and The Royal Indian Tiger Reserve Project. 9th Street's partnership with these and other non-profit groups allows us the unique opportunity to provide a high quality, great tasting unique line of products, but more importantly, it helps enhance the lives of those who work so hard to bring it to us.
Questions? email us at info@9thstreetcoffee.com