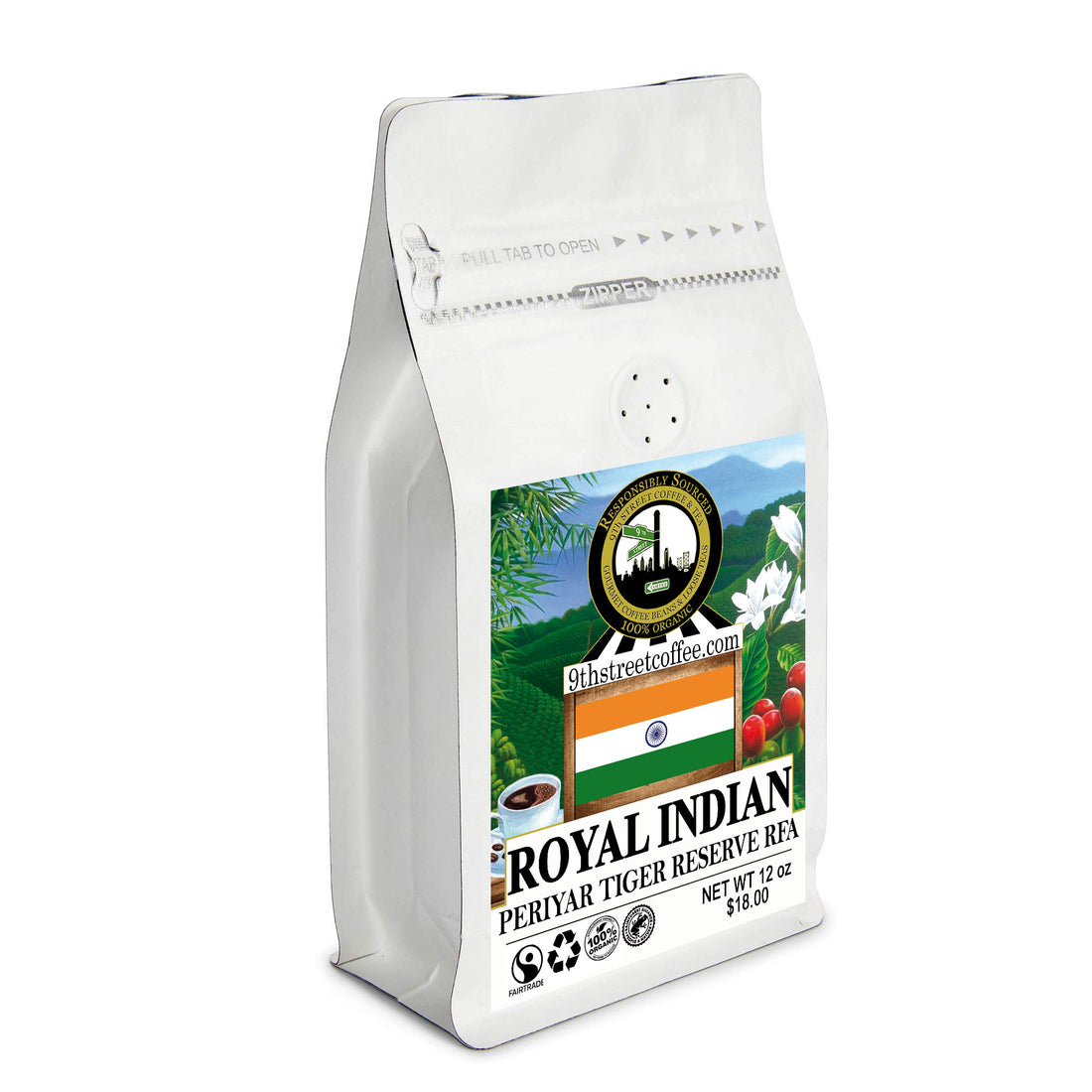 Organic Royal Indian Periyar Tiger Reserve RFA Coffee
The national symbol of India, the tiger represents power, agility, and grace. 9th Street Coffee is proud to offer Royal Indian Tiger Reserve, a coffee that reflects the strengths the subtleties of the tiger, while also supporting conservation efforts aimed at preserving this magnificent creature and its habitat. The beans themselves hail from a farm nestled in close proximity to the Periyar Tiger Reserve in Thekkadi, Kerala, India. The powerfully fragrant aroma bursts forth from the bean, yet the beverage itself is strong-yet-smooth and balanced, with nutty and slight caramel after notes. 9th Street Coffee donates a portion of the sales of this bean to the tiger reserve. We invite you to try this unique bean, which is certain to delight any coffee enthusiast, while also supporting local conservation efforts in the land from which the coffee hails.
Roast Level: City Roast plus 3
Caffeine Level: Medium - High
Acidity Level: Low - /Low/Medium
Varietal: Arabica
Elevation: 3,000 - 4,500 ft above sea level
Region: Periyar National Park
Accreditation: Certified Organic - Fair Trade - Single Origin - Single Plantation - Recycled/Biodegradable Packaging
Monsoon earthiness with hints of caramelized dried figs
Orders of 5 lbs or more require 2-3 days for processing
9th Street Coffee
ORGANIC, FAIR TRADE & RESPONSIBLY SOURCED
100% Organic & Responsibly Sourced Coffee Beans & Teas are more than just a slogan. We are proud to align ourselves with such environmentally conscious organization such as, The UNDP Africa Project, The Latin American Coffee Growers Cooperative, The Malawi Women's Farming Program and The Royal Indian Tiger Reserve Project. 9th Street's partnership with these and other non-profit groups allows us the unique opportunity to provide a high quality, great tasting unique line of products, but more importantly, it helps enhance the lives of those who work so hard to bring it to us.
Questions? email us at info@9thstreetcoffee.com