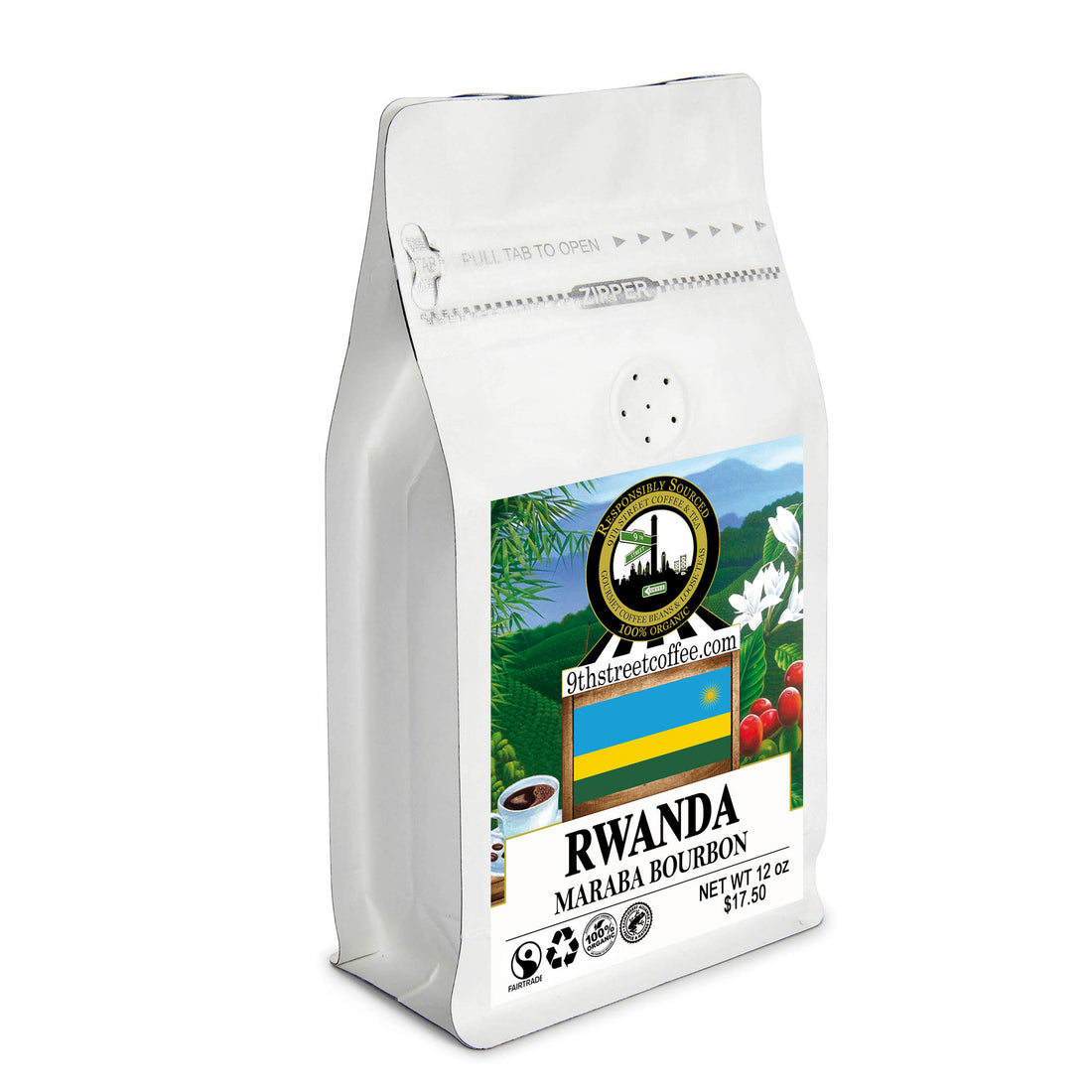 Organic Rwanda Bourbon Coffee
Home to mountain gorillas, golden monkeys, and Volcanoes National Park, the small east African country of Rwanda also produces some of the world's finest coffee. 9th Street Coffee's Rwandan is created from 100% organic Bourbon Arabica beans that are grown in volcanic rich soil at high-altitude. The resulting beans will greet you with a bright, citrusy aroma. The medium-bodied elixir offers a complex tapestry of complementing citrus and floral tones. Reflecting our commitment to enhancing the lives of local farmers, a portion of proceeds from 9th Street Coffee's Rwandan is invested in the community via our partnership and support of the UNDP Africa program. A hallmark of our African offerings, we invite you to experience and savor our remarkable Rwandan.
Roast Level: Full City
Caffeine Level: Medium - High
Acidity Level: Low - Medium
Varietal: Bourbon (Arabica)
Elevation: 3,000 ft - 6,000 ft above sea level
Region: Lake Kivu Rwanda
Accreditation: Certified Organic - Fair Trade - Single Origin - Single Lake Kivu Plantation - Recycled/Biodegradable Packaging
Earthy citrus character of orange zest and tart berry with a gentle caramel finish
Orders of 5 lbs or more require 2-3 days for processing
9th Street Coffee
ORGANIC, FAIR TRADE & RESPONSIBLY SOURCED
100% Organic & Responsibly Sourced Coffee Beans & Teas are more than just a slogan. We are proud to align ourselves with such environmentally conscious organization such as, The UNDP Africa Project, The Latin American Coffee Growers Cooperative, The Malawi Women's Farming Program and The Royal Indian Tiger Reserve Project. 9th Street's partnership with these and other non-profit groups allows us the unique opportunity to provide a high quality, great tasting unique line of products, but more importantly, it helps enhance the lives of those who work so hard to bring it to us.
Questions? email us at info@9thstreetcoffee.com