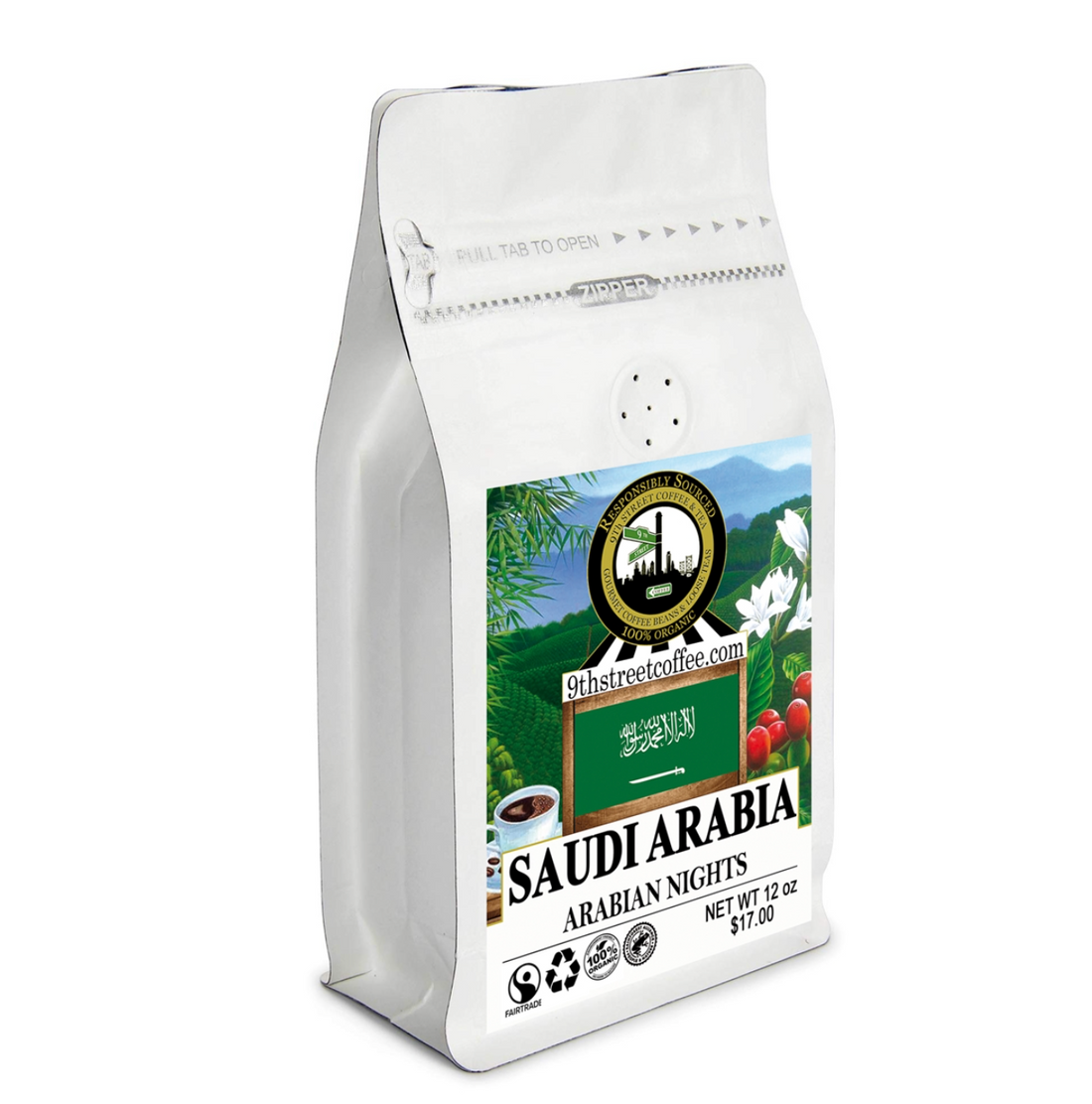 Organic Saudi Arabian Arabian Nights Coffee
Like the intricately woven tales of Scheherazade, 9th Street Coffee's Saudi Arabian Fire Roasted Arabian Nights offers a nuanced narrative of flavor and taste. The highly aromatic blend is crafted using a unique blend of three different North African Arabica beans. These carefully curated beans are then roasted using the traditional Middle Eastern, open-flame method. Different roasting levels are applied to each batch, enhancing the distinctive flavor characteristics of the beans. The result is as enthralling as Scheherazade's legends, with a smooth medium-bodied taste of caramel, nuts, and subtle spice. Enjoy this truly unparalleled blend that you may want to experience for 1,001 nights.
Roast Level: Fire Roasted Arabian Roast
Caffeine Level:Medium
Acidity Level: Medium
Varietal:North African Arabica
Elevation:2,500 - 4,000 ft above sea level
Region: North Africa
Accreditation:Certified Organic - Recycled/Biodegradable Packaging
Balanced with strong spiced caramel traits and a toasted almond and pistachio finish
Orders of 5 lbs or more require 2-3 days for processing
9th Street Coffee
ORGANIC, FAIR TRADE & RESPONSIBLY SOURCED
100% Organic & Responsibly Sourced Coffee Beans & Teas are more than just a slogan. We are proud to align ourselves with such environmentally conscious organization such as, The UNDP Africa Project, The Latin American Coffee Growers Cooperative, The Malawi Women's Farming Program and The Royal Indian Tiger Reserve Project. 9th Street's partnership with these and other non-profit groups allows us the unique opportunity to provide a high quality, great tasting unique line of products, but more importantly, it helps enhance the lives of those who work so hard to bring it to us.
Questions? email us at info@9thstreetcoffee.com