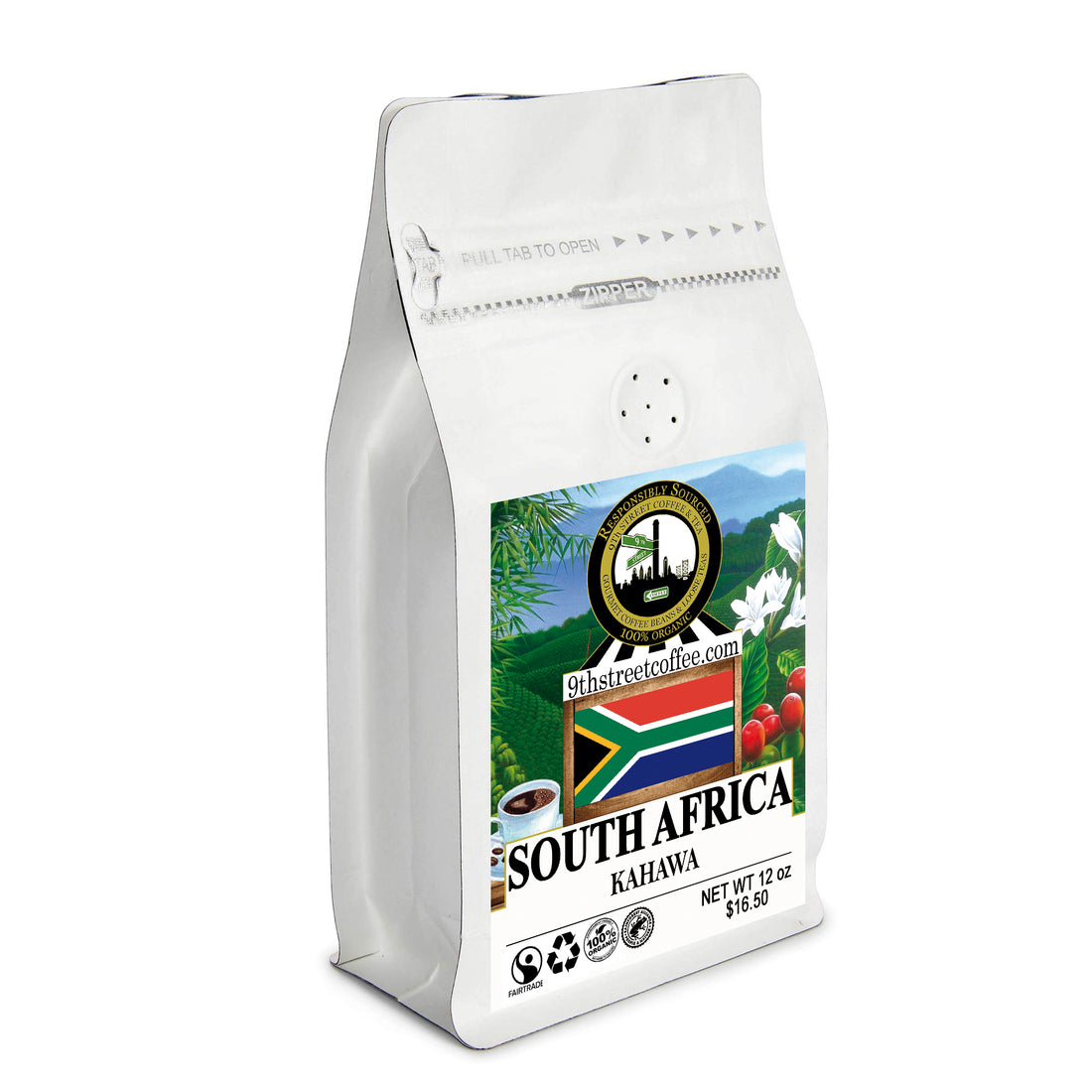 Organic South African Kahawa Coffee
Coffee in South Africa has certainly encountered challenges. From failed planting efforts in the late 1800's and early 1900's to the diseases and pests in the 1950's and continuing through to the political unrest in the 70's, 80's and 90's. However, determination is divine and coffee is finally king! South Africa's coffee from the Mopani district offers a strong nuttiness with a smooth low-acid natural sweetness. Most notably, 9th Street's 
Kahawa is
 grown on a tribal farm in Tzaneen and features the highest caffeine content found on the continent. 9th Street's 
Kahawa
 starts your engine with 225mg of caffeine per cup. This is almost 3 times the amount of caffeine served up in an double shot espresso. If you need to fully wake up with a sweet smooth jolt, this is the high octane coffee for you.
Roast Level: City roast plus 5
Caffeine Level: High
Acidity Level: Low - Low/Medium
Varietal: Arabica
Elevation: 600 - 2,400 ft above sea level
Region: Tribal area of KwaZulu-Natal
Accreditation: Certified Organic - Tribal Farming - Single Origin - Single Plantation - Recycled/Biodegradable Packaging
Earthen tones with hints of delicate caramelized cherry
Orders of 5 lbs or more require 2-3 days for processing
9th Street Coffee
ORGANIC, FAIR TRADE & RESPONSIBLY SOURCED
100% Organic & Responsibly Sourced Coffee Beans & Teas are more than just a slogan. We are proud to align ourselves with such environmentally conscious organization such as, The UNDP Africa Project, The Latin American Coffee Growers Cooperative, The Malawi Women's Farming Program and The Royal Indian Tiger Reserve Project. 9th Street's partnership with these and other non-profit groups allows us the unique opportunity to provide a high quality, great tasting unique line of products, but more importantly, it helps enhance the lives of those who work so hard to bring it to us.
Questions? email us at info@9thstreetcoffee.com