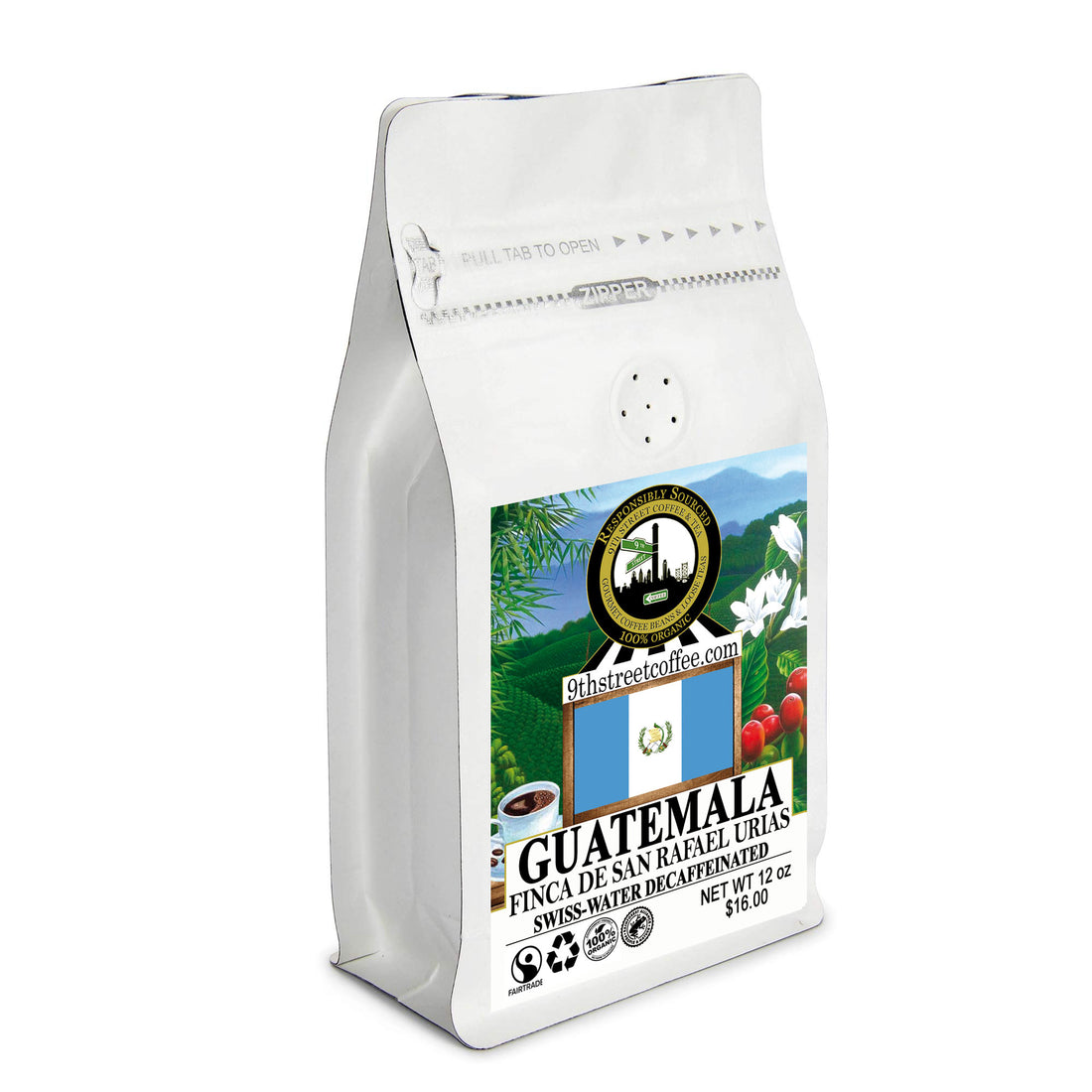 Organic Swiss Water DeCaf Guatemalan Finca De San Rafael Urias
Nestled in a basin surrounded by soaring volcanic peaks that pierce the horizon, Antigua offers coffee beans as unique as the landscape that begets them. 9th Street Coffee sources its fine Guatemalan Antigua from small farms in the central highlands of Guatemala. This low-altitude, shade-grown bean entices with its bold aroma and clear, complex taste. The rich flavor melds with subtle hints of nuts and spice. Single-origin and 100% organic, our Guatemalan Antigua is one of several offerings that supports the Latin American Coffee Growers' Cooperative.
Roast Level: City plus 9
Caffeine Level: Swiss Water DeCaf
Acidity Level: Low
Varietal: Bourbon Arabica
Elevation: 4,800 - 5,000 ft above sea level
Region: Antigua
Accreditation: SHG - Certified Organic - Fair Trade - Single Origin - Single Plantation - Recycled/Biodegradable Packaging
Woodsy and smoky character with notes of spiced chocolate and dark caramel
9th Street Coffee
ORGANIC, FAIR TRADE & RESPONSIBLY SOURCED
100% Organic & Responsibly Sourced Coffee Beans & Teas are more than just a slogan. We are proud to align ourselves with such environmentally conscious organization such as, The UNDP Africa Project, The Latin American Coffee Growers Cooperative, The Malawi Women's Farming Program and The Royal Indian Tiger Reserve Project. 9th Street's partnership with these and other non-profit groups allows us the unique opportunity to provide a high quality, great tasting unique line of products, but more importantly, it helps enhance the lives of those who work so hard to bring it to us.
Questions? email us at info@9thstreetcoffee.com