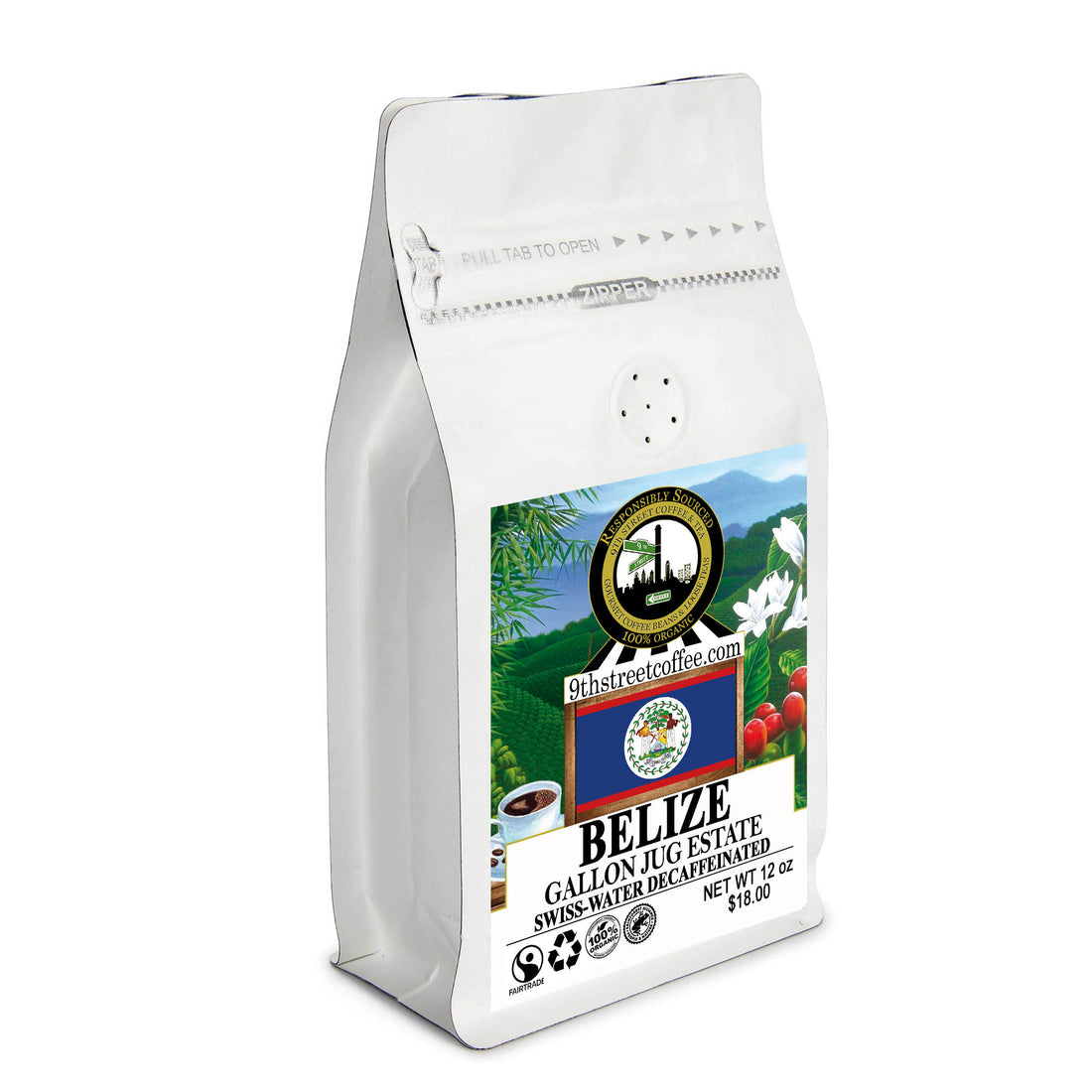 Organic Swiss-Water DeCaf Shade Grown Belize Gallon Jug Estate
When the UK relinquished control of British Honduras in 1981, Belize was born. They not only unleashed the limitless potential of the population, they changed the national drink to coffee! When you take your first taste of Belize coffee, you'll ask yourself, Why was this not done sooner? This uniquely smooth and tropical Arabica is the Caribbean's only 100% shade grown coffee. The Gallon Jug Estate is rated as one of the highest quality coffee's on the planet. As it brews and the aroma hits your seances, you'll wonder how you ever lived without it. The Gallon Jug Estates in Belize is a small yet important producer because it is used as a comparison to grade other coffee's from the region. The sensation of the low acidity, the bold flavor and the natural sweetness, instantly brings clarity to why it is considered the Caribbean's benchmark of quality.
Roast Level: City Roast
Caffeine Level: Swiss Water DeCaf
Acidity Level: Medium - Medium/Low
Varietal: Arabica
Elevation: 1,000 - 2,100 ft above sea level
Region: Mayan Rain-forest Northwestern Belize
Accreditation: Certified Organic - Fair Trade - Single Origin - Single Plantation - Recycled/Biodegradable Packaging
Full bodied roast with black tea earthiness and a crisp cacao finish
Orders of 5 lbs or more require 2-3 days for processing
9th Street Coffee
ORGANIC, FAIR TRADE & RESPONSIBLY SOURCED
100% Organic & Responsibly Sourced Coffee Beans & Teas are more than just a slogan. We are proud to align ourselves with such environmentally conscious organization such as, The UNDP Africa Project, The Latin American Coffee Growers Cooperative, The Malawi Women's Farming Program and The Royal Indian Tiger Reserve Project. 9th Street's partnership with these and other non-profit groups allows us the unique opportunity to provide a high quality, great tasting unique line of products, but more importantly, it helps enhance the lives of those who work so hard to bring it to us.
Questions? email us at info@9thstreetcoffee.com