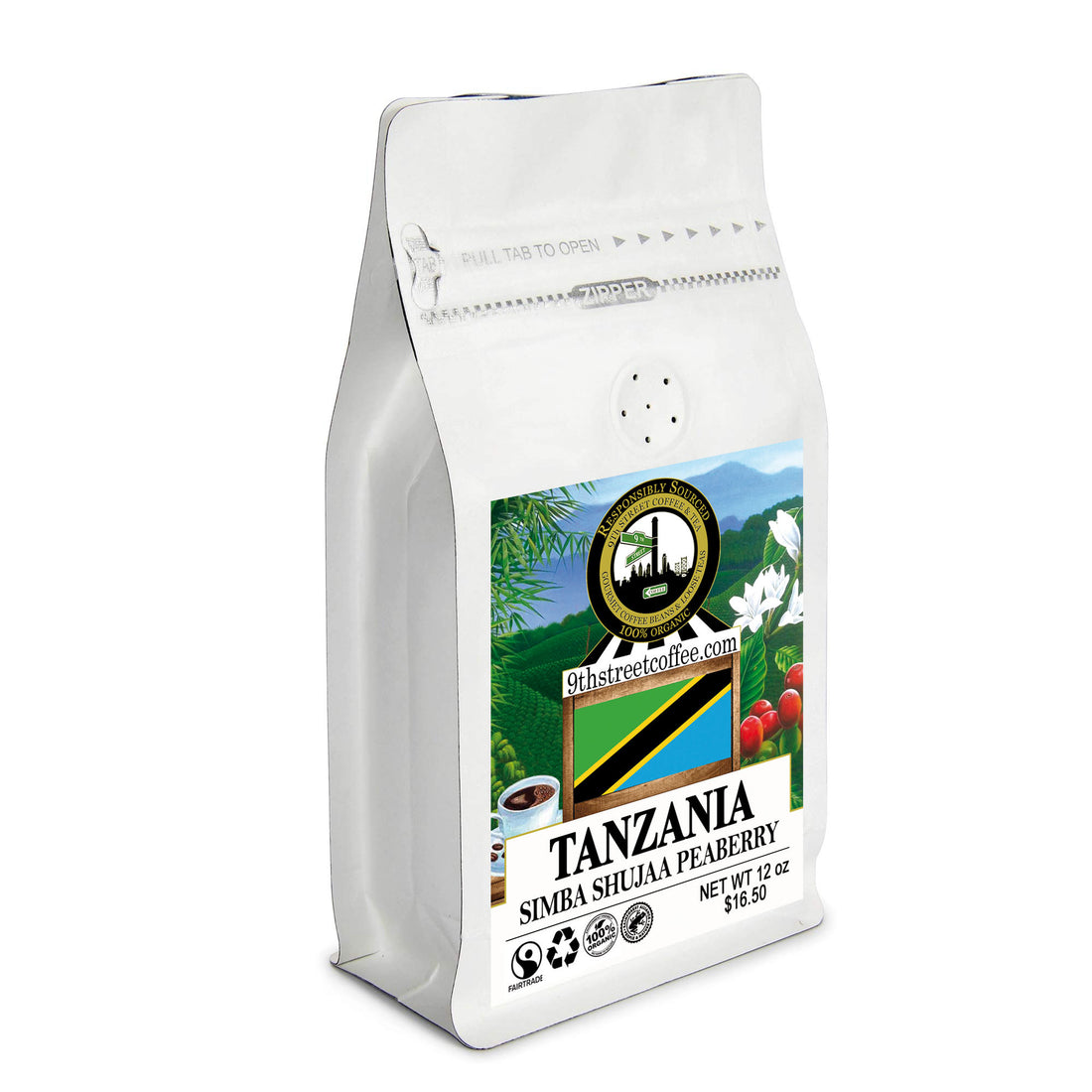 Organic Tanzanian Simba Shujaa PB Coffee
9th Street Coffee's Tanzanian Peaberry is sourced from our small farm in eastern Africa, 9th Street Coffee is pleased to offer you its gourmet Tanzanian Peaberry coffee. Home to elephants, lions, leopards, and rhinos – as well as the lofting heights of Mt. Kilimanjaro – Tanzania's Peaberry beans reflect the complex diversity of the land from which they are grown. Our single-origin Tanzanian is a vibrant, bright, medium-bodied coffee with spicy hints of pepper or cloves. Like our other coffees, 9th Street's Tanzanian is green-processed to minimize the ecological impact on the local environment. Invite Tanzanian to join you on either a harried workday or relaxing weekend and savor its dynamic flavor. 

Roast Level: City roast plus 5
Caffeine Level: Medium
Acidity Level: Low
Varietal: Peaberry PB
Elevation: 3,500 - 5,500 ft above sea level
Region: North Kilimanjaro Tanzania
Accreditation: Certified Organic - Owner Operated - Single Origin - Single Plantation - Recycled/Biodegradable Packaging
Bright floral tones of peach and lemongrass with hints of crisp peppercorn
Orders of 5 lbs or more require 2-3 days for processing
9th Street Coffee
ORGANIC, FAIR TRADE & RESPONSIBLY SOURCED
100% Organic & Responsibly Sourced Coffee Beans & Teas are more than just a slogan. We are proud to align ourselves with such environmentally conscious organization such as, The UNDP Africa Project, The Latin American Coffee Growers Cooperative, The Malawi Women's Farming Program and The Royal Indian Tiger Reserve Project. 9th Street's partnership with these and other non-profit groups allows us the unique opportunity to provide a high quality, great tasting unique line of products, but more importantly, it helps enhance the lives of those who work so hard to bring it to us.
Questions? email us at info@9thstreetcoffee.com