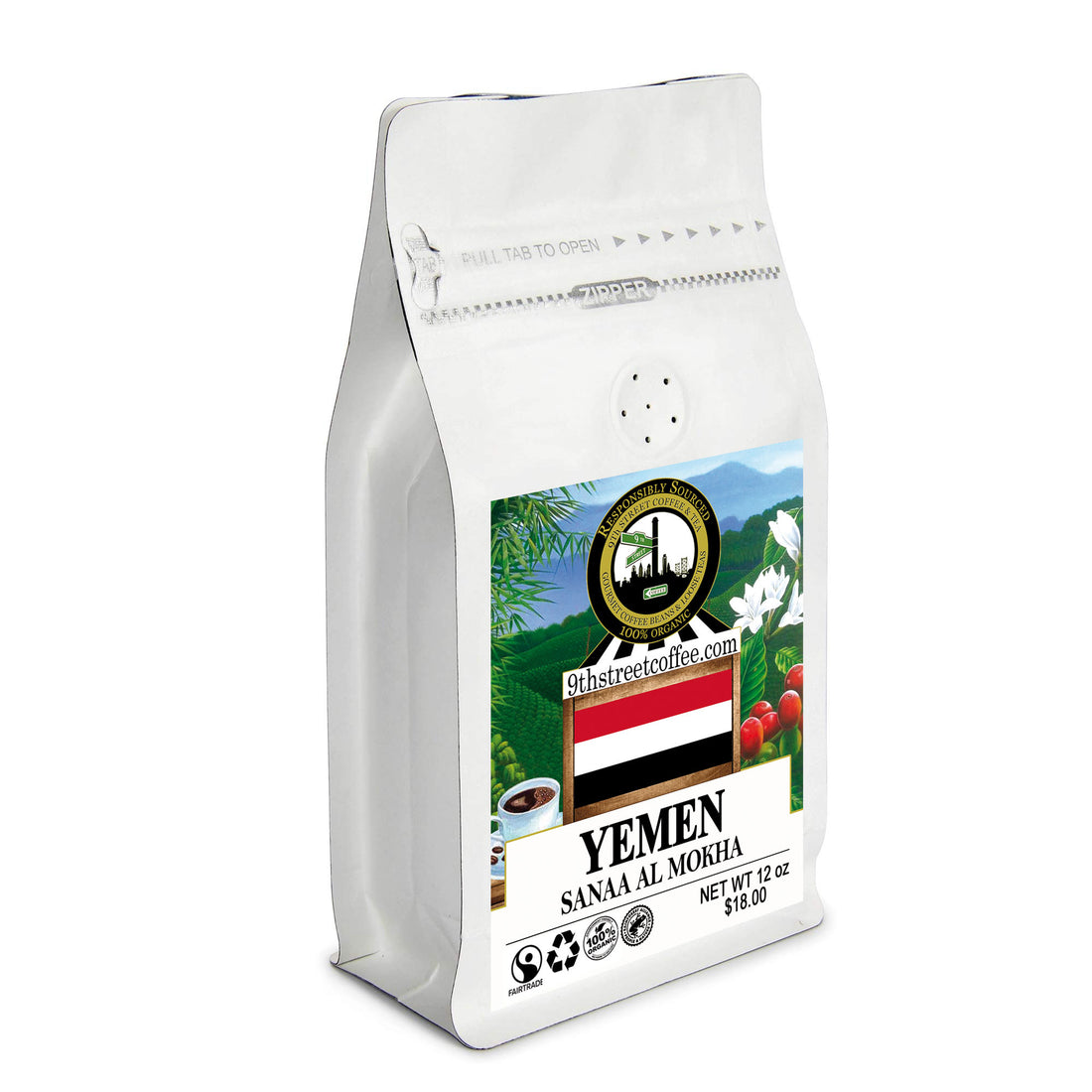 Organic Yemeni Sanaa Al Moka Coffee
While coffee itself is believed to have originated in Ethiopia, we owe Yemen for its cultivation and trade. Named for an ancient port on the shore of the Red Sea, 9th Street Coffee's Yemeni Sanaa Al Moka traces its history to some of the earliest cultivated beans. Coffee lovers will be mesmerized by the elixir's impossibly silken smoothness and consistency. The unique flavor palette includes fruit tones (e.g., hints of raisins) with subtle sweetness and dark chocolate notes. Dry-processed in keeping with the tradition of fine coffee from Yemen, 9th Street Coffee's Yemeni Sanaa Al Moka is 100% organic. Seasoned coffee enthusiasts as well as those still exploring the world's diverse coffee regions will appreciate stepping into history and experiencing the special nature of this remarkable brew.
Roast Level: City Roast
Caffeine Level: Medium to Medium/High
Acidity Level: Medium
Varietal: Al-Mokha Arabica
Elevation: 4,800 - 5,600 ft above sea level
Region: Al-Mokha Yemen
Accreditation: Certified Organic - Certified YSC - Fair Trade - Single Origin - Single Plantation - Recycled/Biodegradable Packaging
Earthy tones punctuated with a dark chocolate finish
Orders of 5 lbs or more require 2-3 days for processing
9th Street Coffee
ORGANIC, FAIR TRADE & RESPONSIBLY SOURCED
100% Organic & Responsibly Sourced Coffee Beans & Teas are more than just a slogan. We are proud to align ourselves with such environmentally conscious organization such as, The UNDP Africa Project, The Latin American Coffee Growers Cooperative, The Malawi Women's Farming Program and The Royal Indian Tiger Reserve Project. 9th Street's partnership with these and other non-profit groups allows us the unique opportunity to provide a high quality, great tasting unique line of products, but more importantly, it helps enhance the lives of those who work so hard to bring it to us.
Questions? email us at info@9thstreetcoffee.com